Cebu Pacific Defers A321NEO Aircraft Deliveries; Orders 7 A321CEO Planes

Leading Philippine carrier Cebu Pacific has placed an order with Airbus for an additional seven A321CEO (Current Engine Option) aircraft, for delivery from March 2018.
The aircraft will meet the airline's increased capacity requirements pending the start of delivery of 32 A321NEO aircraft, which will now begin in 4TH quarter of 2018.
CEB has chosen to defer the A321NEO deliveries due to delays with the Pratt & Whitney engines selected to power the aircraft.
"We have decided to take a conservative approach to the introduction of the A321NEO into our operations. We remain confident that Pratt & Whitney will address all issues on the GTF (Geared Turbo Fan) engine.
There is, however, the need to increase our current capacity to meet growing domestic and regional network demand, thus the A321CEO order," said CEB Chief Finance Officer, Andrew Huang.
The seven Airbus A321CEO planes have a total value of US$812 million, based on current list prices and will be on top of the existing order of the 32 Airbus A321NEO aircraft.
The latter had originally been scheduled for delivery beginning September 2017 until 2021, but these have been pushed back for delivery in the 4th quarter of 2018 until 2022.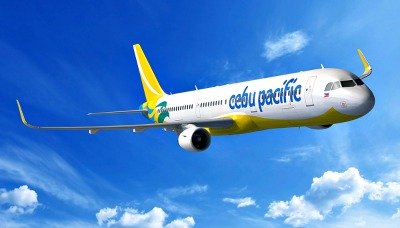 Cebu Pacific A321NEO
"We are very excited about adding the A321 to our fleet," said Lance Gokongwei, President and CEO of Cebu Pacific, "The aircraft will enable us to increase capacity on popular routes, while at the same time benefiting from the lowest operating costs in this size category.
This will mean more low fares for more customers flying across our domestic and regional network."
John Leahy, Airbus Chief Operating Officer - Customers, added, "We are pleased to sign this additional order with one of the most successful airlines in the Asian region.
With the A321, Cebu Pacific will be able to respond to growing demand with the highest levels of efficiency. Carrying more passengers further, and at lower cost, the A321 is the perfect solution to meet the requirements of airlines worldwide in the middle of the market segment."
CEB recently took delivery of two brand-new aircraft: an Airbus A330; and an ATR 72-600, to bring its current fleet to 61.
The CEB fleet is comprised of four Airbus A319, 36 Airbus A320, eight Airbus A330, eight ATR 72-500, and five ATR 72-600 aircraft. CEB flies to 37 domestic and 26 international destinations, operating over 100 routes spanning across Asia, Australia, the Middle East, and USA.
Cebu Air, Inc. (PSE: CEB)
Cebu Air, Inc. is the largest carrier in the Philippine air transportation industry, offering its low-cost services to more destinations and routes with higher flight frequency within the Philippines than any other airline.
For bookings and inquiries, guests can visit www.cebupacificair.com or call the reservation hotlines (+632)7020-888 or (+6332)230-8888. The latest seat sales can be found on CEB's official Twitter (@CebuPacificAir) and Facebook pages. Guests may also download the Cebu Pacific official mobile app on the App Store and Google Play.