AirAsia Reconnects Kota Kinabalu – Cebu, Philippines With 4x Weekly Flights

AirAsia will be recommencing its Kota Kinabalu – Cebu, Philippines direct flights with 4x weekly frequencies every Monday, Wednesday, Friday and Sunday effective 27th March 2015.
Flights for this route is now available for booking online at www.airasia.com with all-in-fares from as low as RM89 one way, and the airline has also recently announced the abolishment of fuel surcharge from its fares as well. The promotion period will be from now until 8th February 2015 and for the travel period from 27th March 2015 until 26th March 2016.
This route will be operated by AirAsia Zest with the airline code Z2.
AirAsia Philippines' Chief Executive Officer, Joy Cañeba said, "Part of our commitment is to build connectivity outside Metro Manila. We picked Cebu because it's bustling with activities and the traffic from Southern Philippines is growing rapidly. We're thrilled to re-open Cebu-Kota Kinabalu route to provide the much needed connectivity at affordable fares for Cebuanos and overseas Filipino workers."
As one of the most highly developed cities in the Philippines, Cebu or the Queen City of the South is also a hub for education, trade and commerce, business process outsourcing and shipping. Local and foreign tourists continue to flock this place for various attractions such as heritage walk, food and music festivals, fiestas and unforgettable nightlife.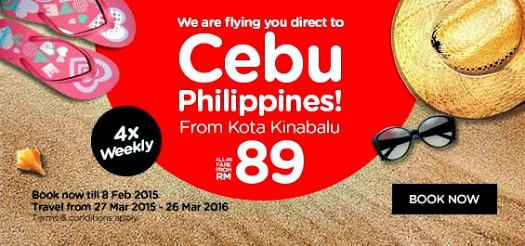 "Cebu and Kota Kinabalu are wonderful places for adventure and outdoor sports. Every visitor would be delighted to know that Cebu has one of the most accessible beaches, resorts, entertainment, shopping and food districts," Cañeba said.
AirAsia also flies to Kota Kinabalu from Manila's Ninoy Aquino International Airport every Wednesday, Friday and Sunday.
AirAsia Philippines reconnects Manila-Davao with 3x flights daily
AirAsia Philippines, the Filipino Low Cost Carrier that flies hand in hand with AirAsia, voted the World's Best Low Cost Carrier for six consecutive years, today announced it will start flights between Manila and Davao on 27th March 2015.
AirAsia Philippines' Chief Executive Officer, Joy Cañeba said, "Davao City is an important gateway to Mindanao. We are partnering with Local Government Units and various stakeholders in the region to develop products and services to further boost tourism and promote Davao as a major tourist destination to local and foreign visitors."
Access to Davao-Cebu is also available on AirAsia's twice daily flights from Davao International Airport to Mactan Cebu International Airport.
More than just a centre of trade and commerce for Mindanao, Davao is host to a myriad of tourist attractions.
Nature lovers can hike their way up to Mount Apo to enjoy the lush scenery from atop the nation's highest peak or indulge in various activities at Eden Nature Park, while the Island Garden City of Samal offers a chance for sun-seekers to go beach-hopping around the many pristine shores surrounding the resort island.
Meet the country's national bird at the Philippine Eagle Centre, have "dangerous" encounters at Davao Crocodile Park and find Philippine's national flower, Waling-waling, amongst the many flower species at Puentespina Orchids and Tropical Plants.
Whether you are looking for exciting nightlife or a serene getaway, Davao seals the deal when it comes to natural charms and city amenities