Cebu Island is Conde Nast Magazine's 7th Best Island in the World

Cebu Island has retained for the third straight year its seventh ranking in the list of best island destinations in the world by international Conde Nast Traveler magazine.
A Cebu resort, Plantation Bay Resort and Spa in Lapu-Lapu City has also maintained its ranking in the prestigious list.
Conde Nast Traveler magazine has recently released the results of the annual Readers' Choice Awards 2009, a listing of the best cities, islands, hotels, transportation and resorts worldwide.
At 72.6 points, this is Cebu's ranking for the third straight year and the fourth time in the last five years. Cebu got 70.9 in 2008; 72.3 in 2007 and 72.8 in 2004.
Cebu Island has been ranked 8th best island destination twice in 2006 with 71.0 points and in 2005, with 69.5.
Rounding up this year's top 10 island destinations in the Asia/Indian Ocean group are: Maldives-87.5, Bali-84, Phuket-79.9, Sychelles-76.7, Koh Samui-75.3, Mauritius-74.1, Cebu-72.6, Langkawi-69.8, Borneo-65.4, and Lamu-63.6.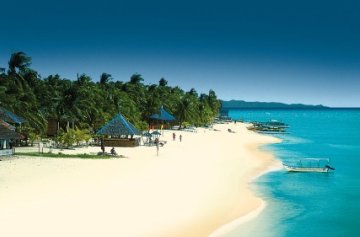 Bantayan Island, Cebu, Philippines
This year, Cebu, along with Maldives, Bali, Phuket, Langkawi and Borneo, maintained their rankings, while Mauritius slid down. Seychelles and Koh Samui each earned one notch higher. Lamu, a new entrant, edged out Lombok at tenth place last year.
Borneo maintained is 9th ranking since it joined the list last year.
In the same survey, Plantation Bay Resort and Spa Cebu, an 11.4 hectare resort on Mactan has maintained its position at 16th place with 88.5, lower by 5 points in last year's score.
The resort surpassed some resorts in Bali, Cambodia and Phuket; trailing behind resorts in Langkawi and Maldives in the resorts category. It is the only Philippine resort included in the 25 top Resorts in Asia.
Every year since 1988, a select sample of Conde Nast Traveler readers have taken the Readers' Choice Survey.
This year, the questionnaire was available to all readers through a secure web site. The final tabulations of 25,008 responses this year were done by Madiamark Research Inc. of New York City.
Last August, Cebu Island was also named 4th best island in Asia by another New York-based magazine Travel + Leisure, when it released its World's Best Awards 2009, a listing of the best hotels, airlines, cruises islands and cities all over the world.
Cebu got a rating of 79.68 points and trailed behind Bali (87.41), Maldives (84.43) and Phuket (80.93). (PNA)