Catanduanes' Marine Environment is an Ecological Wonder

Apart from the richness of Catanduanes' terrestrial domain, the province's marine environment is also an ecological wonder.
Bounded by a long strip of palm-fringed beaches, the province is a pearly island in the Pacific with an aggregate total area of 1,511 square kilometers and is jeweled with jungle-covered mountains and virtually untouched, unspoiled and unexplored sub-islands and islets.
These sub-islands, surrounded by diving spots that are considered potential marine reserves, include Calabagio, Panay and the most-visited Palumbanes, being one of the most beautiful beaches in the Philippines known for its fine yellowish-white sand.
It is also one of the most biodiversed marine zones of the province, according to Provincial Environment and Natural Resources Officer (PENRO) Joaquin Ed Guerrero.
Palumbanes, an about 50-hectare landmass also known locally as "Parompong," is once among the well-kept secrets of the province until recently when the place was introduced to leisure travelers seeking new laid-back rural destinations and underwater encounters with rare and exotic marine creatures.
Islets eyed as marine reservations and diving sites are the Macalanhog and Mamunglo Island Reefs in Gigmoto and Bato towns, respectively, as well as several reef formations off the Viga-Baras-Bato-Gigmoto coastlines—all harboring various endangered and threatened species.
These species include mollusks such as nautiluses, cone snails, abalone, cowries, giant triton, conches, octopuses and squids, according to Guerrero.
Marine mammals like dolphins and whales also frequent, more notably in March to June, the province's eastern coasts-- the first land ground kissed by the waves of the Pacific Ocean.
According to data from the regional office of the Bureau of Fisheries and Aquatic Resources (BFAR) based in Pili, Camarines Sur, tuna migration is on its peak in the months of April and May in Maqueda Channel, the narrow body of water that separates the province from Camarines Sur.
Dugongs are also known to swim on Catanduanes coasts although these events have become rare in the past months.
These seasonal phenomena involving migratory fish tracks are explained by the island's being nestled in the very beginning of the Kuroshio Current that runs through Eastern Philippines, Taiwan and Japan.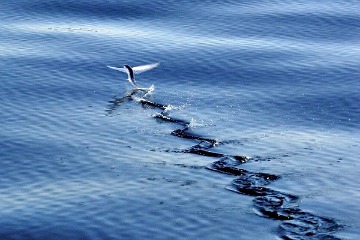 Flying Fish
This current, Guerrero said, performs an array of physical and biological functions in countless marine life like migration and breeding.
He said the Catanduanes coastal water is among the country's bests for the population of flying fish observed locally to attain its fullest size, which may weigh nearly a kilo, while rabbitfish (Siganidae) is the most common tropical fish around the island.
Rabbit fish is an exciting species when observed in the waters as it can adopt a number of camouflage patterns involving off-white, pale gray to blackish, and various shades of brown.
Its fry comes out in millions in shallow coasts during the breeding season that happens between March and May.
Sea cucumbers are also known to be abundant in many islets of the rough eastern coasts facing the Pacific Ocean.
Indeed, Catanduanes is capitalizing on its diverse attractions from forested peaks, rugged terrains, majestic waves down to a lush underwater world, sweetly agreed by an ever-developing economy and shared by tropically warm people.
Its emergence as one of the tourism development areas features these attractions with the "majestic" waves of Puraran, a beachfront wonder which is of more thrill and adventure compared to other surfing sites in the country at the frontline.
The province marine environment's biodiversity is equaled by its terrestrial zones highlighted by a lush rainforest that is home to rare and diverse wildlife.
The rich dipterocarp forest, measuring a total of 69,770 hectares and considered the largest remaining forest block in the whole of the Bicol Region, harbors numerous tropical plant species -- including the threatened species of pitcher plants and rafflesia as well as harwood trees such as yakal, apitong, palosapis, and molave.
It extensive lowland forest called the Catanduanes Watershed Forest Reserve (CWFR) placed at 26,010 hectares, thus protected, supports important populations of birds to make the province one of the few islands of the country where the Philippine Cockatoo and Cream-bellied Fruit-dove are particularly numerous.
Guerrero said these birds as well as two of the restricted-range species, Luzon Bleeding-heart and Grey-backed Tailorbird are substantially present in most parts of the CWFR, now being eyed by the Department of Environment and Natural Resources (DENR) for expansion to nearly 50,000 hectares under the National Integrated Protected Areas System (NIPAS).
Philippine Dwarf-kingfisher, Philippine Eagle-Owl (Bubo Philippensis) and Duck (Anas luzonica), all classified by the International Union for Conservation of Nature (IUCN) as "vulnerable" are also present out in the wilds of CWFR, Guerrero said.
The presence of these species, he said, makes bird watching, which is another ecotourism wonder of the province, exciting.
All these wonderful gifts of nature give the province and its people good reasons for an unshakable stand against commercial mining within its land-dwelling that is heavy in high-grade coal and limestone deposits. (PNA) FPV/FGS/Danny O. Calleja/CBD/ssc