Caluya, My Paradise

It is a four-hour ride via a small "batil," or motorized boats from mainland Antique and is often "out of route" if one thinks of travel itineraries.
But mind you, Caluya is the richest town in the province. It is the only town that is considered to be a first class municipality because of the income derived from its vast open-pit coal mine operating since 1999. This coal mine, known as the Panian Coal Mine, is on Semirara Island, which is a 55-square kilometer island barangay of Caluya.
Caluya has come a long way since it was discovered and labelled as the "twin island" of Boracay, that world-famous beach island in Malay, Aklan.
It was previously named "Polo Pandan" by Moro pirates because in those days, the entire coastal area was covered by pandan screw pines. Back then no humans had ever dared to dock, much more to live in this island.
Even fishermen from other nearby islands would stay away because of the presence of Moro pirates who made the island their haven when they were through ravaging the ships of some foreigners out at sea.
Brave fishermen who dared to land ashore were lucky to find footprints (yet no houses were being built there) and an eternal spring from the root of a "dangkalan" tree. When other fishermen heard of the good news, they begun to join the first group and finally settled there, building "barong-barong" for their families.
When Moro pirates landed on the other side of the island, those settlers feared for their lives and properties, so they transferred their huts at the hilltop which they called "minoro" or "barabanwa".
Thus settled, men continued to fish while their wives were left at home tending the children. One day, it was told, Moro pirates surfaced and they frightened the women and children. An amazon warrior named Merin gathered all women to defend their settlement. Upon seeing these women, the pirates, upon orders from their leader, retreated because they believed women were weak or "maluya". After the incident, Polo Pandan was changed to "Maluya" in honor of the famous women heroes who defended the settlements as led by the amazon Merin.
Years passed and the name became "Caluya"
But it is not always "maluya" or sad in this island. After years of being colonized by invaders, starting from the Spanish conquistadores, the Americans, the Japanese and until its liberation, the island became a thriving fishing village where marine products, exotic fish of different species, seaweeds and the world famous tatus or blue coconut crabs could be found and become a source of livelihood for the Caluyanhons.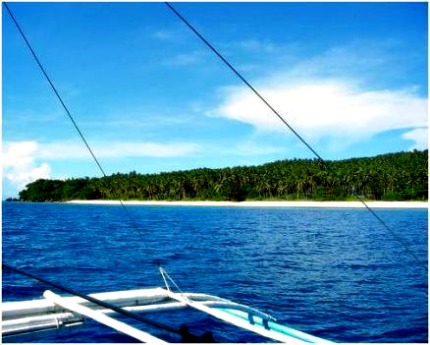 Caluya, Antique
Its present local governance under the leadership of lady mayor Genevieve Lim-Reyes took pride in bringing the island onto the map through tourism and sustainable livelihood. Its annual festival the "Tatusan Festival", which showcases the blue or coconut crab locally known as tatus, draws more tourists, both local and foreign from all corners of the archipelago.
Recently, Caluya because of Semirara Island and its coal mining in Panian Pit, again made it in the news, and in the maps also. Due to incessant rains in the country, a landslide occurred at the said Panian coal mine site that fateful day in February 14, 2015, killing five and leaving five others missing.
The incident prompted the provincial government to call for its operation to stop. But Semirara residents along with those who benefited by the coal mining were up in arms to protest its closure.
They alleged that the incident was just an isolated case and the benefits from that mining are many and can surpass the negative effects.
The opportunities in Semirara Coal mine are endless, they argued. Those minerals they quarried assisted them in earning more money and enjoying a better quality of life. Jobs were plenty and if the mine site be closed, think about the employees who will lose their jobs. Think how many scholars will not be able to pursue their studies and business establishments will experience unimaginable bankruptcy.
With the start of the new presidency under Rodrigo Duterte, Semirara Coal Mining was again on top of the list by the DENR new secretary, Regina "Gina" Lopez. The mine was under close surveillance as to its compliance to environmental rules and regulations.
The SMPC, engaged in thermal coal extraction and power production, maintained that they abide by the compliance certificate they are holding and its 300MW coal power badly needed by Luzon and Visayas is enough reason for the government to allow it to continue operating.
Besides, SMPC complied with its social responsibility and could attest that the waters around the area are still fit for human and animal existence. One of the social responsibilities that they are taking pride in is the environmental protection and preservation. To date, it has inland reforestation, mangrove areas development and maintained a large clams population, proofs that eco-system thereat is alive and well.
Whatever and however, Semirara and its mainland municipality, Caluya Island continue to bring "kasadya" to its residents and those who would frequent the paradise island even amidst the heavy rains and the big waves.
As what its lady mayor said, "we shall push through in making our island municipality the next tourist destination in the Island of Panay." (PNA)RMA/AJP/Leah Marlie Pagunsan-Tambanillo/