Cagayan de Oro Golden Mermaid Statue Unveiled

A Golden Mermaid statue has been unveiled at the City Tourism Hall
The statue was donated by Cagayan de Oro's sister city Norfolk, Virginia, symbolically indicating closer ties between the two cities.
The unveiling ceremony was held during the four-day visit of Janis C. Weisberg, immediate past president of Norfolk Sister Cities Association, Guia Caliwagan, chair of the Norfolk-Cagayan de Oro Sister City Committee and Dr. Juan Montero, who spearheaded the Norfolk-Cagayan de Oro sister city ties.
Vice Mayor Caesar Ian E. Acenas, who welcomed the Norfolk delegates on July 18 expressed gladness over their goodwill visit as he expects more exchanges between the two cities.
It may be recalled that the city forged sistership ties with Norfolk, which is known as a Mermaid City.
The program was attended in by former Mayor Constantino G. Jaraula, Councilor Dante Pajo and Councilor Lourdes Candy Darimbang, chair of the City Council committee on tourism, among others.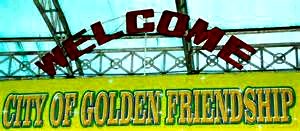 It was facilitated by Eileen San Juan, chairperson of the Events Committee of the City Tourism Office.
Dr. Montero informed the vice mayor that after the five-year hiatus, the city can expect more friendly links with the Mermaid City.
Councilor Pajo thanked Norfolk, Virginia for its continuing collaboration with Cagayan de Oro as its only sister city in the country.
The mermaid statue will be mounted at the soon to open Duaw Park adjacent to the tennis court near the Cagayan de Oro River.
"This is the symbol of friendship and partnership with our sister city," Councilor Pajo added. (LCR/ELB/CdeOSP/PIA)