Bohol Races to Nail Sports Tourism Destination Title

Running consistent with its old tourism slogan "It's all in Bohol", local authorities here look at the viability of also pinning the province onto the global sports tourism map with the recent successful hosting of the SafeGuard 5150 Triathlon at the Bellevue in Panglao.
Bohol governor Edgar Chatto, at the opening of the SafeGuard 5150 triathlon in Panglao said Bohol will continue to make sales pitches to bring in tourists who spend and spur the local economy.
Bohol's eco-cultural tourism destination has miraculously revamped the local economy. Observers say it increases the economic conditions of Boholanos as its ripple effects are felt cross the island province.
The earthquake last year, snagged the tourism momentum and while destinations still need to rehabilitate, the search for alternatives opened up with Bohol as distance race venue.
As early as 2008, KIA has brought to Bohol an endurance bike race consisting of 120 kilometers of a mix match of plain flat tracks over concrete highways, tar covered asphalt roads and potholed stretches of steep climbs, that promise to grate a bike's gears to uselessness for the un-initiated.
The course took one race biker from the plains of Panglao to the hills of Loboc and up the torturous winding Loboc Bilar Manmade Forest to the scenic mounds of the Chocolate Hills and zipping back.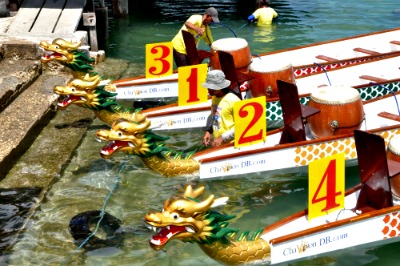 Dragon Boat Racing in Bohol via raulgatal.blogspot.com
Already a regular host of the Enervon Active 226 Marathon presented by Timex since 2011, Bohol captivated international Olympic runners with its famed chocolate hills, centuries old churches and still a chest-full of secrets known only to locals.
Since that time when distance runners took to task the 3.8 kilometers swim above the virgin coral gardens of Anda, 140 kilometer bike past scenic palettes of aquamarine to navy blue ocean views and 42 kilometer run through the canopies of centuries old trees and past verdant vegetation in Bohol's agricultural towns, professional and elite runners have been blocking their December calendars for the torturous but refreshing Bohol swim-bike-run.
From historic yet sleepy town of Anda, two years later, the Timex Marathon sprinted to Panglao and opened a new intriguing course for distance runners who have to race through the best-selling tourism circuits of Bohol, effectively stamping two promotions in a day's race.
And as if the Timex Marathon was not enough to sate milers, The Defy Marathon from the Bellevue attracted 300 international and elite locals, thousands were egging to join but the week-long registration limited the entries to only that.
Defy featured 1 kilometer swim, 110 kilometer bike and 12 kilometer triathlon which defied, like what organizers envisioned, the rules of distance races.
In July of 2013, Bohol again hosted its International Marathon from Panglao, which captivated races not only because of the race tracks but more of the sights one can also enjoy.
That same year, Bohol opened its doors to another equally thrilling aquasports event: dragon-boating.
Hosting an international dragonboat race in May of last year at the Tagbilaran City Strait, Bohol again carved a new niche in aqua activities with international and national paddlers hailing the calm and easily tame Dauis-Tagbilaran City strait.
After the SafeGuard 5150 race last week, Bohol again braces for the Enervon Active triathlon in December, a fixture already pegged by international Olympic sprinters and distance runners. (mbcn/rahc/PIA7-Bohol)