Gov't Authorities, Environmentalists Push Protection of Blue Whale in Negros Oriental
Government authorities and environmentalists here are calling for increased public awareness on the blue whale (Balaenoptera musculus) which has been sighted again for three consecutive days in the waters of southern Negros Oriental.
The baleen whale was spotted close to shore from somewhere in between Dauin town, Bacong town and Dumaguete City beginning Monday.
On Tuesday, it was seen again for about five or six times in the afternoon by a group of about 20 people, headed by environmentalist and dive shop owner and dive tour operator Harold Biglete, off the coast of Dauin and Bacong.
Biglete took the team, including personnel from the Negros Oriental Tourism Office, the Bantay Dagat and this reporter, for almost two hours of roaming the sea waters off Dauin and Bacong to document the blue whale's activities.
It appeared in different spots but mostly near the shore, expelling air through its blowhole a few times before making a dive, and then reappearing again somewhere else.
On Wednesday, Biglete once again went out to sea in his 27-footer dive boat, the MBCA Rosefel 2, this time with representatives from the Maritime Police, the Bureau of Fisheries and Aquatic Resources (BFAR), several media practitioners, Dauin police and Bantay Dagat, among others, to further document the blue whale.
The Silliman University Marine Laboratory (SUML) also sent a team to observe the blue whale up close.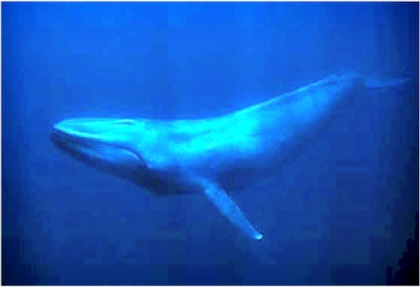 While little is still known of this particular blue whale, it is highly believed that it is in Negros Oriental to feed, as it has been seen in some instances near the marine reserves in the adjacent towns and cities.
Biglete has asked local officials and the media to help spread the word about the marine mammal's presence in Negros Oriental to protect it from threats, most especially being run over by ships and boats.
Biglete has started distributing flyers about the blue whale.
Danny Ocampo, an environmentalist and professional scuba diver, also echoed the same sentiment, saying he will also be preparing flyers that would contain basic information about the blue whale and guidelines especially during a sighting.
AA Yaptinchay of Marine Wildlife Watch also expressed at least two concerns, namely, the protection of the blue whale from potential threat and ensuring it will not be disturbed as well as documenting its activity and plotting out a pattern if possible.
BFAR's Allan Marco also called on owners and operators of boats and ships to pay attention to the blue whale's presence in Negros Oriental waters considering that it is an endangered species.
Marco also cautioned that the law carries stiff penalties for those causing harm to the blue whale.
It is highly hoped that there will be concerted protection and conservation efforts for the blue whale, the largest animal on earth, as not much is known about this particular cetacean globally, according to Yaptinchay.
The blue whale in Negros Oriental has attracted public attention as it is the first time to document its presence here even though there were previous reports of sightings in the past but with very little information available. (PNA)LAP/By Judaline F. Partlow