Best Hotels in the Philippines to be Joined by  Marco Polo Hotel Ortigas Manila

Marco Polo operates some of the best hotels in the Philippines
Authorities in providing upscale and tourism-related ventures, Marco Polo Hotels (MPH) and the Xin Tian Ti Development Corporation (XTT) have collaborated to peg an impressive 313-room Marco Polo Ortigas hotel on Meralco Avenue, Ortigas Center, Pasig City, scheduled to open in 2014.
A signing ceremony was held in Manila and attended by Steve Kleinschmidt, MPH President; Samuel Po, XTT President; Government Officials and VIP guests.
Next to China, the Philippines has the most number of Marco Polo hotels in Asia. Marco Polo Ortigas is the third addition to Marco Polo's growing portfolio of hotels in the Philippines. The other two hotels are located in Cebu and Davao.
"Marco Polo Hotels has been known for its excellent services and first-class signature touches, we are incredibly excited to be affiliated with this reputable hotel brand in Asia Pacific for the Marco Polo Ortigas, a P3-billion investment," said Samuel Po, XTT President.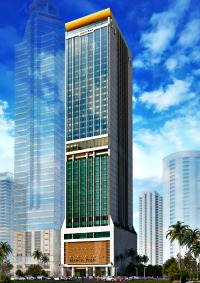 "We are delighted to the addition of this hotel, located in a prime location of the capital of the Philippines. Our rapid growth and development in the Philippines and China has further strengthened our brand and its awareness throughout Asia Pacific," said Steve Kleinschmidt, MPH President.
The contemporary 5-star Marco Polo Ortigas offers a spectacular view of the city center and direct access to Meralco Avenue in Ortigas. This edifice, an alliance of excellent design and well-planned development will feature 313 well appointed rooms and upscale suites. To provide ultimate comfort to its guests, the hotel opens up to Marco Polo's signature Continental Club floor that offers exclusive and unrivaled privileges available at only the best hotels in the Philippines.
The hotel not only breaks the visual monotony of skyscrapers taking over the Ortigas Center, but it provides upscale amenities known at some of the best hotels in the Philippines, such as extensive meeting facilities, signature all-day dining restaurants, a Chinese restaurant, a lobby lounge, and a Sky Bar that offers a compelling view of city skyline. A plethora of indoor and outdoor amenities will be set in place, including an indoor swimming pool, health club and spa.
Marco Polo Hotels
Marco Polo Hotels is wholly-owned subsidiary of The Wharf (Holdings) Ltd; a Hong Kong-listed company with core business interests in property and investments in communications and container-terminal operations.
Marco Polo Hotels' roots are firmly in Asia, offering a hospitality experience that is warm, efficient, and distinctly Asian. Its hotels, located in key business centers in Asia Pacific, includes Beijing, Foshan, Hong Kong, Jinjiang, Shenzhen, Suzhou, Wuhan and Xiamen in China; Cebu and Davao in the Philippines; and Phuket in Thailand.