Zamboanga's Pink Sand Beach on National Geographic's Best Beaches in the World
US magazine National Geographic has listed the pink sand beach on the Great Santa Cruz Island in Zamboanga as among the best beaches in the world.
"Hardly lacking in gorgeous beaches, the Philippines claims a pink-sand variety, too," an article by National Geographic writer Kimberley Lovato read.
Lovato cited how the beach claimed to fame for its "blush color" which "comes from billions of pieces of crushed red organ-pipe coral, seen in every handful of sand."
She also pointed out that the number of visitors to the island is regulated, and suggested readers who want to see the island for themselves that they should make advanced arrangements through the tourist office in Zamboanga.
Last December, Department of Tourism (DOT) Secretary Wanda Teo visited the island to see the pink sand beach for herself and assure tourists that tourism in the Zamboanga Peninsula is safe regardless of the old stigma attached to its name.
"I personally came here because I want people to know that because 'the Secretary of Tourism was here', the more they should come here. I would like to show the world that Zamboanga is safe," Teo said.
Teo, meanwhile, vowed to spearhead efforts to develop the island seeking funding from an agency that used to handle operate it—Tourism Infrastructure and Enterprise Zone Authority (TIEZA).
The island is a 3,425-hectare marine reserve which is believed to be bigger than the country's 24/7 party island, Boracay. It used to be operated by the TIEZA until it was turned over to the Zamboanga City government in 2011.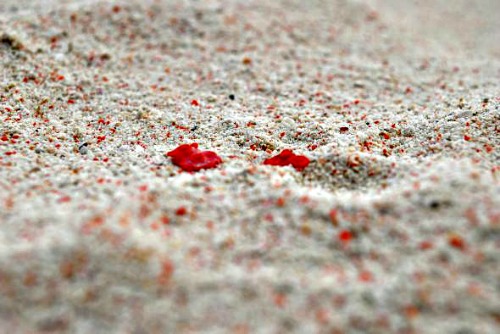 Zamboanga's Pink Sand
Other islands on National Geographic's best beaches in the world list include:
Playa del Amor in Marieta Islands, Mexico
Cathedrals Beach, Ribadeo, Spain
Anse Source d'Argent, La Digue, Seychelles
One Foot Island, Aitutaki, Cook Islands
Sunset Beach, Brunswick Islands, North Carolina
Lazy Beach, Koh Rong Island, Cambodia
Bowman's Beach, Sanibel Island, Florida
Shell Beach, Shark Bay, Western Australia
Lyme Regis, England
Cannon Beach, Oregon
Carmel City Beach, Carme-by-the-Sea, California
Noordwjk Beach, The Netherlands
Papakolea Beach, Hawaii
Reynisfjara Beach, Iceland
Pink Beach, Great Santa Cruz Island, Zamboanga, Philippines
Pelican Beach, South Water Caye, Belize
Blue Bay, Mauritius
Cas Abao Beach, Curacao
Sleeping Bear Point, Sleeping Bear Dunes, Michigan
Piscinas Beach, Arbus, Sardinia
Corniche Beach, La Teste-De-Buch, France
(PNA)RMA/Azer N. Parrocha