Boracay is 2015 Traveller's Choice Awards' Best Beach in Asia

Never failing to impress tourists with its picture-perfect view, Boracay was named the best beach in Asia by the world's largest travel website, TripAdvisor in its 2015 Traveller's Choice Awards.
Boracay's White Beach to be specific, received the top rank for its "calm, warm waters, gently sloping sand," which the site described as "very relaxing" and "possibly the most beautiful beach in Asia."
The site also noted that the best time to go to Boracay, which has also been dubbed as Asia's 24/7 Island, was during peak season on the months December to May.
Also making it to the list of best beaches were the Yapak Beach (Puka Shell Beach) also in Boracay, Aklan ranking fifth and the Secret Lagoon Beach in El Nido, Palawan ranking 16th.
The Department of Tourism (DOT) on its official Facebook and Instagram accounts, meanwhile, welcomed the country's newest achievement.
"What makes this recognition significant is because the list of award-winning beaches is determined based on the quantity and quality of millions of traveller reviews and ratings for beaches on TripAdvisor, gathered over a 12-month period," the DOT said.
"Summer in the Philippines is coming fast and make sure Boracay is on your bucket list," it added.
The full list of 'best beaches in Asia' are as follows:
1. White Beach in Boracay, Aklan, Philippines
2. Radhanagar Beach in Havelock Island, Andaman and Nicobar Islands, India
3. Nai Harn Beach in Rawaii, Thailand
4. Ngapali Beach in Ngapali, Myanmar
5. Yapak Beach (Puka Shell Beach) in Boracay, Aklan, Philippines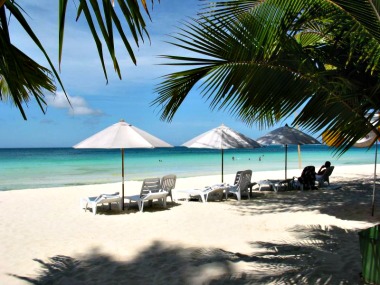 Boracay, Philippines - Best Beach in Asia
6. Agonda Beach in Agonda, India
7. Railay Beach in Railay Beach, Thailand
8. Kata Noi Beach in Karon, Thailand
9. Phra Nang Beach in Ao Nang, Thailand
10. Otres Beach in Sihanoukville, Cambodia
11. Palolem Beach in Canacona, India
12. Varkala Beach in Varkala, India
13. Nusa Dua Beach in Nusa Dua, Indonesia
14. Mandrem Beach in Mandrem, India
15. Yonaha Maehama Beach in Miyakojima, Japan
16. Secret Lagoon Beach in El Nido, Palawan, Philippines
17. Cavelossim Beach in Cavelossim, India
18. Cua Dai Beach in Hoi An, Vietnam
19. Sunrise Beach in Ko Lipe, Satun Province, Thailand
20. Haeundae Beach in Busan, South Korea
21. Thong Nai Pan Noi in Ko Phangan, Surat Thani Province, Thailand
22. Dhanushkodi Beach in Rameswaram, India
23. Yalong Bay in Sanya, China
24. Nishihama Beach in Hateruma-jima Taketomi-cho, Yaeyama-gun, Japan
25. Benaulim Beach in Benaulim, India.
(PNA)LGI/Azer N. Parrocha