Central Luzon: The Undisputed Belen and Lantern Capital of the Philippines

Belen and lantern-making industry in Central Luzon
Central Luzon has been famous for a number of things -- from gastronomic delights to fashion, from arts to sports. Name it and Central Luzon is surely on the A-list.
Every Christmas season, thousands of foreign and local tourists converge on the region to see and be amazed with the colorful displays of the Belenismo and Giant Lantern Festival in Tarlac and Pampanga, respectively.
Nativity scene
The art of making Belen has been a century-old tradition in several parts of the archipelago, and in Tarlac it is a competition that unites residents.
Belenismo was conceived in 2007 by the Tarlac Heritage Foundation and Commission for the Cultural Heritage of the Church to restore the religious and social significance of the belen as a symbol of Christmas, promote the bayanihan spirit among Tarlaqueños and increase tourist volume in the province during the holiday season.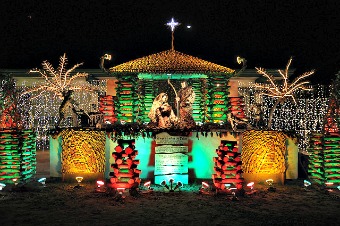 Belen and Lantern Capital of the Philippines via Juan Paulo Gutierrez
With over 128 participating entries, participants competed in six categories, namely, High School Diorama, Personal Diorama, Church, Monumental, Grand Municipal and Grand Non-Municipal and what's even more surprising is they are all made with recycled materials.
Entries in the diorama categories have a length of 120 centimeters, a depth of 80 centimeters and height of 80 centimeters, while entries in the monumental and church categories have a height of three meters or less and are displayed in the rooftops, lobbies and gardens of participating offices, business establishments and parishes.
On the other hand, entries in the grand categories have a height of more than three meters and are exhibited in municipal halls, plazas and major roads around the province such as McArthur and Romulo highways.
Monumental category winner VES Food House boasts of the elegance of using artificial and natural flowers.
Owner Mary Joyce Sibal said: "The flowers, which are daisy, roses, lilies and even orchids kind, were being replaced every week. Last year, we used chicken feathers which we colored to attract customers."
You'll be awed by these Belen blossoms, with its vibrant colors.
Meanwhile, personal diorama category winner Albert Dancel used 100 cans of softdrinks to produce the perfect nativity scene that was based on Pampanga's culture. This hall of famer awardee last year used 3,600 toothpicks in his work that depicted Bulacan's Singkaban Festival.
"The money which I received from the contest worth P25,000 will be used to help the young generation be more inclined to art so I'm giving free lessons right at my home to bring them closer in this scene," Dancel added.
Moreover, Church category winner St. Francis of Assisi Parish used its patron as an inspiration for their entry.
Parish priest Fr. Christopher Lozano said: "We were inspired by our patron not to spend any money for us to produce a beautiful Belen, instead the young people living in our parish had collected plastic cans which we used."
Lozano added that they wanted to emphasize the traditional games of the Philippines like "pabitin" and the equipment used when farming – karangga.
The P60,000 prize money will be allocated for the continuous renovation of the parish church.
On the other hand, Grand Non-Municipal victor Tarlac City Police showcased the "culture of the South" as a fitting tribute to the recently signed framework agreement between the government and the Moro Islamic Liberation Front.
Muslim motif was highlighted and even the South Philippines' colors -- yellow, red and green were showcased. The Islam community has a population of 7 percent in the country.
Tarlac Heritage Foundation co-founding chairperson Dra. Isabel Cojuangco Suntay said: "Beautiful Belen in different places in Tarlac gives joy and light to people who passes by such monument."
The art, specifically the making of Belen, as how President Benigno Aquino III explained, brings out the resonant skills and talents of the participants which are admired by local and foreign people which feature people's creativity and bayanihan spirit.
And through this "continuous bayanihan," it is certain that we would grant priceless Aguinaldo or gift to the Filipino community: fair, prosperous, progressive and developed tomorrow for the Philippines.
Star of Bethlehem
In the gospel of Matthew, three wise men had followed a star known as the "Star of Bethlehem" to bring gifts to Jesus. Pampanga has giant replicas of this.
Eleven villages from the City of San Fernando will compete in the 2012 Giant Lantern Festival on December 15 at Robinsons Starmills. Participants are defending champions Sta. Lucia, Calulut, Del Carmen, Del Pilar, Dolores, San Jose, San Juan, San Nicolas, San Pedro Cutud, Sto. Niño and Telabastagan.
Designer Eric Quiwa of Sta. Lucia promised to give the people "a burst of colors" on the night of the festival, while Del Pilar lantern-maker Raner Deveraturda disclosed that their entry this year has 9,000 bulbs.
"A giant lantern costs around P500,000, and the city government is subsidizing the cost at P125,000," said City Administrator Ferdinand Caylao.
According to historical accounts, the festival that is locally known as "Ligligan Parul (Showdown of Lanterns)," is believed to have started in 1908 when Francisco Estanislao pioneered the lantern-making industry in San Fernando.
Estanislao is said to have built a giant lantern for a Christmas procession during that year.
However, it was only in 1931 when the first lantern competition was formally organized. The inaugural contest was in honor of Aurora Aragon Quezon – wife of former president Manuel Quezon. Through the years, several innovations were introduced to the competition, namely, the use of batteries in 1940, molding of steel wire as frame in 1950 and rotors in 1957.
Rotors are aluminum tubes that are moved so hair pins and a series of bulbs connected to these are exposed to the electricity source. The movements dictate when the bulbs will light up and project images.
Visitors can expect the burst of colors, the twinkling, a real of art of Kapampangas seen just right in front of them.
Visitors are invited to go to Central Luzon and experience the best of Philippine Christmas! (CLJD/Joelyn G. Baluyut-PIA 3)