5 'Crowd-Less' Beaches for Summer Vacation in the Philippines

The summer heat has started to set in and that means more people are heading to the beach. While many Philippine go-to beaches will most-likely be full, a few will be "crowd-less".
Luckily, the Department of Tourism (DOT) has got tourists covered from until late May or early June with a list of "crowd-less" beaches they can visit during the summer season.
Nagsasa Cove in San Antonio, Zambales -- This beach is slowly becoming a preferred weekend getaway for those living in Mega Manila due to its close proximity in the urban areas.
"For a 3.5-hour land trip from Manila, visitors get to experience pristine white beach, fresh air, and crystal clear waters perfect for a hideout from the hustle and bustle of the city," DOT said.
Visitors can easily take a bus bound for Iba, Zambales and ask to be dropped off at the Municipal Hall of San Antonio. From there, they can hop on a tricycle headed for Pundaquit beach which serves as the jump-off point for the Nagsasa Cove. From Pundaquit, boats are available for rent that will take them to Nagsasa.
Britania Islands in Surigao del Sur -- The DOT described this beach as "one of the Philippines' best-kept island secrets."
"Britania is a cluster of 24 mesmerizing islands and islets scattered all over Lianga Bay, which faces the Pacific Ocean. Each island is blessed with powdery white sands, which visitors found to be comparable with that of Boracay's," DOT noted.
To get to the Britania Islands, visitors can fly to Butuan City and hire a van or take the commercial buses going to San Agustin from there. Travel time is four to five hours. From there, they can asked to be dropped off at Salvacion Tourism Office and after take the trike or habal-habal (motorcycle) going to Britania.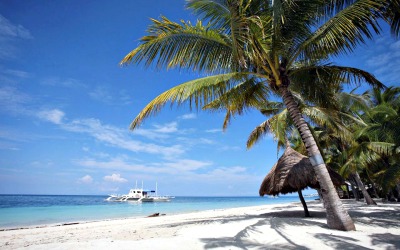 Beach Vacations in the Philippines
Gigantes Islands in Iloilo -- This beach is an island chain in the northernmost part of the Iloilo province.
"The main islands, Gigantes Sur and Gigantes Norte, are filled with steep rock formations and cliffs. Visitors may either go rock climbing in Gigantes Sur or explore the mysterious caves hidden behind the rock formations in Gigantes Norte," DOT said.
To get to Gigantes Islands, visitors can fly either to Kalibo, Iloilo, or Roxas City and take the bus going to Estancia, Iloilo. From there, they can ask to be dropped off at Estancia Port from which pump-boats traveling to Gigantes Islands for two hours are available for hire.
The Subic Beach in Matnog, Sorsogon -- Matnog is the southernmost municipality in the Island of Luzon; a jump-off point for travelers crossing the sea towards Eastern Visayas. But more than a port, Matnog is also home to some of the finest, crowd-less beaches.
"Off the town of Matnog is the Calintaan Island which is a 30-minute boat ride from the mainland. In its southern end visitors will find sea caves and rock formations, but the main selling point of Calintaan is the pinkish white sand beach called Subic," DOT said.
Visitors who plan to visit Subic Beach can either fly to Legazpi and take the bus to Matnog or take the more exciting route by land from Manila straight to Matnog by taking the bus either from Araneta-Cubao Station or Alabang bus terminal.
Kalanggaman Island in Palompon, Leyte -- Dubbed as "the smaller version of Boracay."
"The water surrounding Kalanggaman is perfect for swimming, snorkeling, kayaking, and boating! What separates it from Boracay though is its magnificent sandbars that cross over the crystal clear waters," DOT noted.
To get to Kalanggaman, visitors may fly to Tacloban and take the van going to Palompon. Travel time is 4.5 hours. Visitors will end up at the Palompon Liberty Park, from which they take the boat that will lead them to the island within an hour. (PNA) LGI/Azer N. Parrocha