First Bakun Trio Summer Climb set on  April 25-27
Are you looking for an eco-tourism adventure this summer? Then come and join the First Bakun Trio Summer Climb set on April 25-27, with the theme "A Climb to Remember"
The event offers trekkers and adventurists the challenge of surmounting not one but three peaks, Mt. Lobo, Mt. Kabunian and Mt. Tenglawan, located within Poblacion and barangay Sinacbat in the town of Bakun, Benguet.
According to Arthur Tolito, Municipal Tourism Action Officer designate, only around 55 participants can be accommodated for ease of management.
In order to join the climb, a P2,500.00 registration fee will be charged per head to cover transportation from Baguio City to Poblacion , Bakun and back, tour guide fee, barangay environmental fee, certificate of participation, t-shirt, and three dinner meals.
Based on the itinerary, on April 25 from 6:00-7:30 AM will be registration, assembly and briefing at the Department of Tourism regional office along Gov. Pack Road, Baguio City.
The adventure starts in a trip via Halsema Highway passing thru the country's road Highest Point in Paoay, Atok, to Nangayangan in Madaymen Kibungan to view panoramic scenes of Tacadang and Central Kibungan then to Dada, Poblacion in Bakun for lunch.
After which the participants will climb Mt. Lobo which would take around an hour and a half. The highest peak among the three, it gives a vantage view of Mt. Data plateau, part of Buguias and an overview of Poblacion, Bakun proper, Tolito said.
After the summit invasion, the group will go down to Poblacion proper to set up tents for the night. After dinner will be a short program.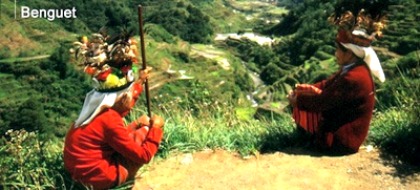 Second day would be a scale to the legendary Mt. Kabunian passing through Lop-ot. At the summit, a prayer to Kabunian will be offered before having lunch.
Legend has it that once upon a time, Doligen, a known traveler to nearby towns and Ilocos, had his face implanted in Mt. Kabunian as a form of punishment when he was tempted to take with him gold plates and spoons in Mt. Kabunian which is considered as sacred place, according to Tolito.
From Mt. Kabunian, the group will go back to Poblacion proper for dinner, community immersion, cultural presentation and sleep over. The tallak dance, unique to Poblacion, will highlight the evening activity.
On the last day, April 27, would be the summit assault to Mt. Tenglawan. After viewing and lunch at the peak, the group will go back to Poblacion proper for the awarding ceremonies.
Early dinner treat with a thanksgiving prayer will culminate the three-day trek then finally off to Baguio City.
Participants are expected to bring clothing, sleeping gears, tents, food for six meals and snacks, back packs, flashlights , head lamp, drinking water and container, trail hiking shoes and slippers, rain gears, first aid kits, camera, binoculars.
But foremost to bring along is the trekkers' determination to complete the three peaks and experience the wonders of nature, said Tolito.
For further details, visit or contact Tolito (09053171616/09212113687); Vice Mayor and Municipal Tourism Council chair Edwin Bandao (09989842733); Tourism Committee Chair Councilor Donald Bag-ayan (09291880610; President of Bakun Tour Guides Association Peter Diclas (09296210448); and Provincial Tourism Operations Officer Claire Prudencio (074-422-1116/09175120472). (JDP/Susan C. Aro-PIA CAR, Benguet)