A Family Friendly Baguio Hotel - Azalea Hotels and Residences
A family visit in Baguio City deserves a family friendly hotel, one that you can find only at Azalea Hotels and Residences Baguio
A great and memorable family vacation means having to give your family the best during your family vacation. First of to consider of course is the place where you want to have your vacation, at this time of the year there are several popular choices. Baguio City is among those popular destinations in the Philippines for the family.
This is because of the fact that Baguio City is one of the most family friendly place in the Philippines. Attractions such as the Botanical Garden, Wright Park, The Mansion, Mines View are only some of the places that your family could visit and enjoy with your family.
What comes after a whole day of fun at the different destinations in Baguio City? A quiet and restful stay at a Hotel that gives you world class amenities and service for a local price. The kind of service that only Azalea Hotels and Residences Baguio can deliver.
Azalea Hotels And Residences is one of the newest and considered as the Family Friendly Hotel in Baguio City. This 99-room hotel is located about 10 minutes away from Baguio's central business district and five minutes away from one of Baguio City's popular destination, the Botanical Garden.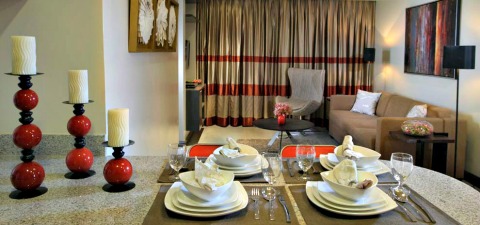 Azalea Hotels and Residences, Baguio
The rooms are considered to be unique because it is the only hotel with rooms that are equipped with a kitchen and everything you need to cook that favorite family meal, especially if you prefer and enjoy eating your family's home cooked meals. The best part about it is that you can purchase fresh ingredients from the Baguio City Market and just cook it in your hotel room.
Too tired to cook? No worries, Tradisyon Restaurant, the flagship restaurant of Azalea Residences can provide you with sumptuous meals. With the Pinoy Comfort food theme your family will enjoy the food that are prepared for you by their resident international chefs.
For the young one's, as we know they have so much energy which makes a whole day of travel around Baguio is not enough to use up all their energy, the hotel also has a playground which the little one's can enjoy. The playground is equipped with a merry-go-round, spring horses and a slide. All the basic amenities to make sure that they will be able to have a memorable stay at Azalea Hotels and Residences.
Give your family only the best vacation, stay at the most comfortable hotel and this is something that only Azalea Hotels and Residences can deliver. Visit their website to book now at www.azalea.com.ph"