Bacolor Still Reigns as "Kakanin" Production Center



When in Pampanga and the craving to eat native kakanin is irresistible, where else to go but in barangay Cabalantian in Bacolor town.
In 1991, the barrio was buried in lahar. The cooks left the place and lived in resettlement sites in San Fernando, Mabalacat and Magalang. A few years later, they returned and Cabalantian reclaimed its glory as the kakanin production center.
The kakanin industry started in the early 1800s. On Wednesdays, when the farmers would prepare the fields for planting rice, snacks are brought to them to stave off hunger as they take a break from the toil.
The need to serve the farmers various snacks was the impetus for the homeowners to create more merienda fare. Thus, were born delicacies produced in Cabalantian.
Only in Cabalantian can one buy the authentic puto seco. These are white, round, and grainy. There is a powdery texture as they melt in your mouth.
Another kakanin born here is the "Tahada." Brown sugar is caramelized till the "kiping" stage. Grated coconut is stirred into the caramel. Mashed yellow squash, ground mongo and shreds of kundol are added. Before the mixture hardens, it is spread in a bilao lined with banana leaves. When cooled, it is cut lengthwise.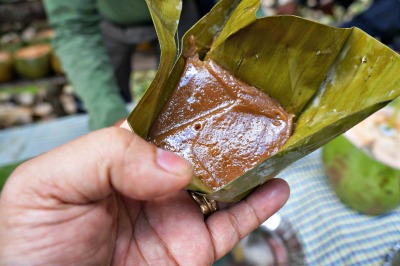 Kakanin via www.wazzuppilipinas.com
Lengian is another kakanin, which originated in the barrio. Strips of "malauhog na buko" are mixed with caramelized brown sugar. Each mound laid to dry contains two spoonfuls of the mixture.
If the Kapampangan "tamales", "suman bulagta" and "suman ebus" have reached the homes of the rich in Metro Manila, it was the entrepreneurial talent of the cooks from Cabalantian who dared to bring them to their doorsteps.
One of them was Gil Tiongson. In 1991, he sold two baskets of suman and tamales at the Magallanes Commercial Center. His initial sales emboldened him to enter the villages. He knocked at the doors of homes and offered the residents his suman.
Now he is in Manila every Saturdays and Sundays bringing bayongs of tamales and suman, which are mostly orders.
The Pampango way of cooking these products is tedious. But the people of Cabalantian make them available throughout the year. A trip to Bacolor is all worth it, if it is to discover how the whole barangay devotes itself to the preservation of a unique cuisine.(CLJD/RGSD-PIA 3)