Ayala Cebu, Enjoy the Ambience of Cebu at Ayala Mall Cebu

Ayala Cebu is the premiere shopping, dining, entertainment center of Cebu
When in Cebu, Philippines and you want to relax and enjoy shopping or eating, choose the best shopping mall in Cebu.
Save some time and get what you want and buy what you need at the most visited mall in Cebu. Choose a mall that has high-end stores and high-end shopping services to suit your needs. Open since 1994 and owned by Ayala Corporation, this mall was the first Ayala shopping center outside of Metro Manila and by adhering to its reputation, Ayala Center Cebu gained approval from the public ever since its opening until today and it is now the region's first choice when it comes to shopping and entertainment.
Ayala Center is not just the choice of the Cebuanos but also for those who are from other parts of the country like the capital, Manila. Since Cebu is a well-known tourist destination, with thousands of foreigners arriving from different parts of the planet, foreigners oftentimes spend a number of hours in the mall enjoying drinks and experiencing the flavors and ambience of Cebu.
Ayala Cebu offers the ultimate sun up to sun down shopping experience to all their valued shoppers. The food court offers superb meals for you and your family while fast-food chains with their hospitable service crews are always ready to serve you.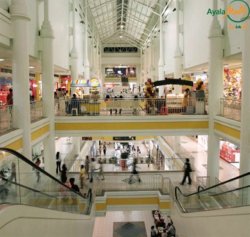 The beautifully designed structures will surely delight shoppers from all walks of life and while it appears upscale and is appropriate only for people with good incomes, the retail stores and affordable, yet, sumptuous food will tell you otherwise. And of course, if you have extra money to burn, there are various high end shops to choose from.
Ayala center is the best place to bond with your family and friends and even for yourself if you want to be alone enjoying a cup of coffee. The amenities available in almost every corner will ensure that you have all the conveniences you need while shopping or strolling through the mall.
The Terraces
In order for the mall to thrive and continue to grow and provide more services and conveniences to their customers, Ayala Cebu expanded its already large mall and installed the now called, The Terraces – a highlight development which is considered one of the best landscape designs in the country.
On October 30, 2008, Ayala Cebu unveiled "The Terraces", a P600-million redevelopment that transformed what used to be a simple lagoon area to a food and beverage strip with the signature Ayala-landscaping and orchestrated water features.
Done shopping? Enjoy a cup of coffee at the Terraces, bond with your family while enjoying the scenery of the park-like atmosphere. Grab your camera and capture your best moments while in Ayala Mall Cebu. Enjoy the fresh air and experience a uniquely Cebuano lifestyle.
Come and visit Ayala center Cebu and discover why it is the dining, shopping and entertainment destination of the Cebuanos and tourists. Experience a night of food, fashion or music. See for yourself the innovative concepts of the management of Ayala Center Cebu and indulge yourself with almost anything you want from dining to shopping to entertainment to nightlife. (Jade Sanchez)