Avenue Plaza Hotel Wins 4th Consecutive TripAdvisor Certificate of Excellence

Avenue Plaza Hotel's excellent service stands out to award-giving bodies this 2014, winning again the TripAdvisor Certificate of Excellence.
Recognized as a Top Performing Hotel, not just in Bicol but in the whole Philippines, The Avenue Plaza Hotel announced today that it has received its TripAdvisor® Certificate of Excellence award for 2014. This accolade — The Avenue Plaza's 4th consecutive win — honors hospitality excellence under the management of its President and General Manager, Mr. Allan S. Cu, as reviewed by travelers on the world's largest travel site.
The Certificate of Excellence is given only to establishments that consistently achieve outstanding traveler reviews on TripAdvisor, and extended to qualifying businesses worldwide. Establishments awarded the Certificate of Excellence are located all over the world and represent the upper echelon of travel-related businesses listed on the website.
Establishments awarded the Certificate of Excellence are located all over the world and represent the upper echelon of travel-related businesses listed on the website.
With excellent customer satisfaction rating, it's not surprising why travelers and guests keep coming back. A previous guest from Canada, Mr. Adam, who stayed for 40 days for work said that The Avenue Plaza Hotel is the best choice. Mr. Adam wrote in his review that "the staff were outstanding! They were warm, friendly, fun and always accommodating. The service was great across the board and I could not have been more pleased. Next time I'm in Naga, I'm definitely staying at Avenue Plaza."
Domestic travelers like Ms. Tess from Manila couldn't agree more. Greatly pleased with her stay during a national convention held at the Avenue Plaza, she said that she will definitely come back and won't hesitate to recommend the hotel.
More Awards Bestowed
The Avenue Plaza Hotel was also one of the awardees in the 2013-2014 National Product Quality Excellence Award and the Best Quality Service Hotel in the Bicol region.
Ms. Apple Allison Perez Marketing Manager and Mr. Paul Dichoso Sales & Business Development Manager personally received the plaque and seal of excellence conferred by National Council on Product and Service Excellence and Q Asia Magazine in the awards night held in Quezon City the last May 30, 2014.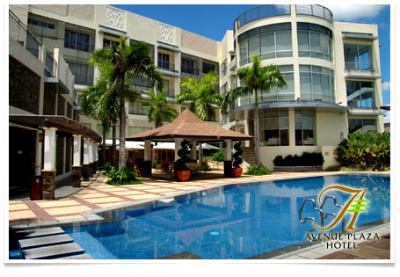 The Avenue Plaza Hotel, Naga, Bicol, Philippines
The Certificate of Excellence and Best Quality Service Hotel accolades are a remarkable vote of confidence to Avenue Plaza Hotel and their continued commitment to excellence. "We'd like to extend my warmest gratitude to you to all our guests who took the time to complete a review on TripAdvisor and at the same time nominate us for various awards. These recent recognitions are a true source of pride and inspiration for the whole Avenue Plaza Hotel team," said Mr. Allan S. Cu President and GM of Avenue Plaza. "There is no greater seal of approval than being recognized by one's customers that is why we will never rest on our laurels as we continually and consistently strive for excellence.
As a testament of their promise for excellence and global standards, Mr. Cu also signed the private sector commitment to the UNWTO Global Code of Ethics for Tourism which was witnessed by UNWTO Secretary General Taleb D. Rifai and Philippines DOT Secretary Ramon Jimenez held at Legazpi City during the UNWTO events in Albay together with other invited key stakeholders and industry players throughout the Philippines.
Even Stronger Commitment
According to Ms. Perez who handles the hotel's digital marketing, Avenue Plaza constantly monitor guest feedback and use social media as vital tool for customer service. This enables them to observe, validate and respond to their guests needs and wants accordingly. "The management takes every review and comment seriously. We want to make sure that our guests are satisfied with our service and if they had any concern that weren't brought up during their stay we make sure that we address them properly. Part of our strategy in keeping our brand at par with global standards is extending our services online and by staying connected with our guests before and even after their stay at the Avenue Plaza Hotel," she said.
Aside from being famous a business boutique hotel in Naga City where you can have your meetings and conventions, Avenue Plaza is also an ideal family-friendly hotel. It has been the preferred home-away-from-home of foreigners and 'balikbayans' whenever they are in Naga City. As this homegrown brand constantly works on making a mark for the Bicol tourism and hospitality industry by nurturing guests through its signature kind of service, one thing is for sure: The Avenue Plaza Hotel will constantly raise the bar of Philippine travel experience.
"We promise the experience of the good life to every guest of the hotel and we pull out all stops to ensure that you do. Nominated or not, we welcome our guests and pamper them with heartfelt service that carry out our honor and that level of high. That's our promise and we deliver on our promise! Once again, in behalf of my team, thank you for your continued support to the Avenue Plaza Hotel. Please visit us again soon. Dios Mabalos po," expressed by Mr. Cu.
More information about the Naga accommodation is found at www.theavenueplazahotel.com. This website boasts a direct-booking engine powered by DirectWithHotels. All reservations are guaranteed instant confirmation.