Badian Cebu a top 10 Asian Spa

Asia Spa Magazine, focusing on Asian spa industry, hails Cebu resort among world's top 10
Asia Spa Magazine, one of Asia's leading spa publications, hailed Badian Island Resort and Spa Cebu as number eight among the world's top 10 island spa resorts.
The resort is nestled between a cliff and Badian Bay and is only a five- minute boat ride from the southwestern tip of Cebu island, where an intuitive "hilot" massage awaits guests. While many rub downs have predetermined strokes, this massage, native to the Philippines, is customized to each individual.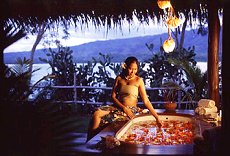 Aside from the tranquil setting and beautiful scenery, world-class Badian boasts of its Badehaus where the asian spa treatment uses centuries' old blends and recipes combined with modern techniques.
It offers its special baths such as herbal, guava, pandan, rampe and Cleopatra. Likewise, the healing power of island's seawater in Thalasso coming from the word "Thalassa" meaning "ocean" is a breakthrough in spa treatment.
It contains a complex blend of natural minerals and antibacterial properties, and submersion in seawater, which promotes relaxation and rebalancing of the body's mineral deficiencies.
The magazine ranked the top 10 island spas in the world :
Le Taha'a Private Island in French Polynesia
Soneva Fushi Resort in Maldives
Pangkor Laut Resort, Perak Island, Malaysia
The Racha in Thailand
Parrot Cay, Turks and Caicos Islands in Carribean
Evason Hideaway and Six Senses Spa Vietnam
Badian Island Resort and Spa Cebu, Philippines
The Sentosa Resort and Spa at Sentosa Island in Singapore
The Grand Wailea Resort Hotel and Spa in Hawaii in USA.
Number one on the list of asian spas is La Taha'a Private Island Resort's in French Polynesia which is situated 230 km from Tahiti in the South Pacific. The sheltered retreat boasts views of Bora-Bora and Taha'a Island. This ultimate island gateway tops the list for so many reasons. It boasts of 48 suites hovering above the ocean and 12 villas. The breezy Manea Spa lies in a coconut grove between a small lake and lagoon where the monoi pape miti vanira massage includes locally grown vanilla. Pushing indulgence to new heights, are two body-shaping sessions which take the massage table into the lagoon with the therapist waist-deep in water.
Ranked as second world's best spa island is Soneva Fushi Resort, a stand out choice in the Maldives. The resort's Kunfunadhoo Island is both private and surrounded by a coral lagoon. Each villa is only a few steps from a dip in the warmth of the Indian Ocean and hidden from the others by dense vegetation. It's enough to make it seem as though the island is uninhabited. It's Six Senses Spa serves up an impressive range of treatments specifically its sensory spa journey where two therapists work in harmony pressing and stroking in unison during the body aroma massage. It all starts with a foot bath followed by a scalp massage and facial.
And third on the list is Pangkor Laut Resort in Perak Island, Malaysia which is a secluded resort located in the Straits of Malacca with signature sea villas built on stilts over the water. It's cozy Asian Spa Village nestled between the island's rainforest and a tranquil bay with a menu that provides treatments from across Asia, is said to be addictive. The half-day Malay package using its unique lapis-lapis herbal wrap and campur-campur body treatment that highlights the extravagance soothes the body from head to toe.
The World Tourism Organization (WTO) associates health spas or resort destinations with travel where the primary purpose is to improve the traveler's physical well-being through a regimen of physical exercise and therapy, dietary control, medical services relative to health maintenance. Currently, health holidays are growing globally significant. Asian spas have already developed health tourism product since health and wellness using traditional healing methods like massage, healing and herbs is very much a part of Asian culture.
In a bid to position the country as a premier health holiday destination in Southeast Asia, the Philippine Department of Tourism continues to broaden the marketability of the Philippines as a destination by way of diversifying its tourism product offerings such as wellness and medical tourism. The Filipino's facility in English as a second language in addition to the competent health professionals who were trained in the United States and Europe is also a plus factor.