ASEAN Tourism - PAL Wins Best Tourism Photo

ASEAN tourism award-winning image of a flock of migratory birds crammed on an islet at the Tubbataha Reef was recently judged Best tourism Photo by the ASEAN Tourism Association (ASEANTA) during the recently held 23rd ASEANTA Awards for Excellence in Tourism.
Philippine Airlines (PAL) submitted the photo as an entry to the ASEANTA Excellence Awards after it appeared in PAL's inflight magazine, Mabuhay.
Erwin T. Lim, a 38-year-old dentist-photographer from Cebu City, captured the image while on a four-day live-aboard dive safari to the Tubbataha Reef. Erwin recounts, "The scene was so picturesque that I almost didn't feel my skin burning under the heat of the sun. Lying flat on the sand, I slowly crawled my way toward the birds."
Erwin's photo, taken with a Nikon D200 camera using a 70-200 mm f2.8 VR lens, was one of the 10 finalists (landscape division, professional category) in the first PAL Photo Contest held June to September. Mabuhay magazine featured the finalists in its April issue.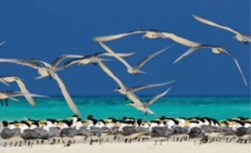 This time, the photo was picked among 40 entries that vied for seven awards recognizing excellence in ASEAN tourism promotion.
"There were many good entries, but we could only give awards to the best-of-the-best," said Felix J. Cruz, president of ASEANTA who is also Vice President for Marketing of Philippine Airlines.
Awards were also given to the best tourism article ("Penang Past & Present" from Silver Kris, Singapore), best tour package ("Intrepid: South East Asia" by Intrepid Ltd. of Thailand), best new tourist attraction ("Singapore Flyer"), best cultural preservation effort ("Cua Van Floating Cultural Center – Ha Long Bay Eco-Museum" from Vietnam) and best conservation effort ("A Journey to Keep the World Beautiful with Thai" by Thai Airways).
Through the ASEAN tourism awards, ASEANTA encourages tourism development and promotion among companies, organizations and individuals coming from ASEAN.
ASEANTA was formed in 1981 as the "umbrella" organization of national airlines and national travel agencies and hotel associations of the 10 ASEAN countries (Brunei Darussalam, Cambodia, Indonesia, Laos PDR, Malaysia, Myanmar, Philippines, Singapore, Thailand and Vietnam).