Apo Island Thrives on Eco-Tourism Activities and Tourist Arrivals

The world-renowned dive destination of Apo Island in Dauin, Negros Oriental continues to thrive on income derived from tourist arrivals all year round with residents reaping benefits from it.
Jose Bryan Arranguez, Community Relations Officer of the Apo Island Protected Landscape and Seascape (AIPLS) of the Community Environment and Natural Resources Office (CENRO) here, disclosed that the lives of residents have improved over the years due to tourism development.
Income sources include eco-tourism activities, fishing, wages earned from resorts on the island, and other businesses such as selling souvenirs.
Arranguez gave a briefing Monday to members of the Association of Negros Oriental Public Information Officers (ANOPIO) and some Dumaguete-based media during a trip to Apo Island to celebrate International Biodiversity Day.
According to him, the Protected Area Management Board (PAMB) comprising representatives from government, the private sector, non-government organizations and others, have agreed on fees to maintain and sustain Apo Island.
These would include mooring fees for boats used by tourists for a dive tour, swimming, snorkeling and other activities, Arranguez said.
He lamented that some tourists complain of what they describe as unreasonable fees being charged when in Apo Island.
Each visitor is charged a PHP100 general admission fee; P25 for a Negros Oriental resident; P10 for Dauin residents and students from Negros Oriental; and P5 for senior citizens, on top of other fees for various activities.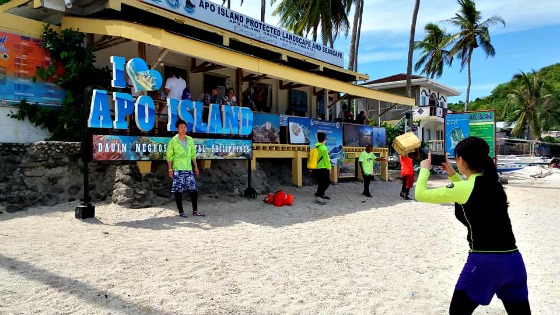 Apo Island, Philippines
Arranguez insisted that the money goes back to the community in a 75-25 percent sharing with the national government, with the larger chunk for the benefit of the island and its people through the PAMB, through projects such as solar lighting, diesel-powered generator, water supply and the like.
As example, Arranguez said that a snorkeler who wants to swim with the sea turtles at the designated marine turtles area have to pay for a guide at PHP300 (for maximum of five people), mask and snorkel at PHP100, and life jacket at PHP200, in case visitors do not bring one.
A guide is required for snorkelers or swimmers to ensure that they do not violate rules such as touching sea turtles, stepping on corals if possible and not getting inside the white-buoy cordoned feeding area of the endangered turtles, among others.
The Apo Island Scuba Equipment Rental and Guiding Association (AISERGA), with islanders as members, was formed to ensure that rules and regulations and other policies are being implemented and followed in the island.
Income derived from all activities has helped the more than 1,000 individuals or around 197 households in Apo Island who have gained access to better education, health services, and even an improved lifestyle, such as owning motor bancas for rent.
Also, people in the island now get to taste sumptuous meals than just the regular day's fish catch and some send their children to private schools in the mainland of Negros Oriental, Arranguez continued.
Many of the island's residents act as dive/snorkeling guides and/or boat crew while others earn their income from souvenirs.
Following its declaration as a protected area (72 hectares terrestrial and 619 hectares marine) in 1994 by then President Fidel V. Ramos, Apo Island earned an annual income of about P6 million, Arranguez said.
When two strong typhoons in late 2011 and late 2012 damaged the corals in the biodiversity-rich marine sanctuary, the island's income dropped for awhile.
The marine sanctuary was sealed off to the public and remains closed for years now, to allow regrowth and recovery of its rich coral reefs and increase fish population.
Arranguez, however, disclosed that after the presence of endangered sea turtles or "pawikan" became the next best attraction of Apo Island, tourist arrivals surged and income also rose to about P12 million a year.
While all this has benefited Apo Island, there are also many challenges for the PAMB and the residents to deal with to strike a balance between economic gains and sustainable development for future generations, he said. (Judy Flores Partlow/PNA)