Albay West Coast Eyed as Bicol's Center for Eco-Cultural Tourism
Stretching 46 kilometers over a rolling terrain featuring high hills and overlooking breathtaking waterscape shimmered by the turquoise water producing tender silvery waves that race against each other to kiss the waiting white sand beaches, the Albay west coast road alone is already a tourism asset.
But local officials want more—eco-cultural tourism -- from the vast area along this new road network that links the Albay towns of Libon and Pioduran and passes through several coastal barangays of this city and its adjoining municipality of Oas that all sit off the beaten track.
The Albay west coast is nestled along Burias Pass, a huge inland sea separating Masbate province's Burias Island from the Bicol mainland and everybody who has traveled this road and set foot on its beaches says the place is meaningfully exquisite and the sea is great for its serenity, cleanness and rich marine resources.
"I've heard about the wonders of the place before but despite my preconceptions about its allure, still I was floored by my actual experience of being here. The drama of the contrast of the landscape and seascape caught me speechless and groping for words to describe it," Carmen Vicuña, a travel writer, said as she meandered through the shoreline of Barangay Catburawan here over the weekend.
According to Manuel Rangasa, a local climate change adaptation campaigner, the Catburawan beach alone could already tell of the unnoticed natural wealth of the Albay west coast, a multifaceted marvel waiting to be introduced as a world-class eco-cultural tourism destination, being blessed with rich biological diversity and eco-cultural assets.
Burias Pass and its adjoining waters of Ticao Pass are home to whale sharks, manta rays, dugong and various species of sea turtles, exotic coral reefs and lately, discovered to be a habitat of the globally rare megamouth shark (Megachasma pelagios), Rangasa said.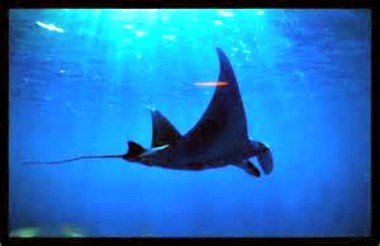 Ticao Manta Ray
"Put in place a more vigorous program for a more sustainable coastal resources management and the place will sparkle as an eco-cultural tourism haven," Rangasa added.
City Mayor Patricia Gonzalez-Alsua agrees as, she said, ecological and cultural tourism is the most viable way towards stimulating economic activities while, at the same time, preserving the unique cultural and environmental heritage of the place and its people.
She said the city government has in place an intensive program started some seven years ago that focuses on the preservation and enhancement of the ecological and fishery resources of the three barangays—Catburawan, Cabarian and Maonon within its political jurisdiction that covers 126 square-kilometers municipal water and coastline length of 8.4 kilometers.
"We are maintaining a 62-hectare mangrove forest in Barangay Cabarian, now teeming with nearly half a million trees; three fish and marine reserves with an aggregate total area of 135 hectares and a coral reef rehabilitation and seagrass protection program that now provides for coral regeneration and protection of fish diversity," the lady mayor said.
Adding the success of these initiatives to the rolling hills, communal pasture lands, romantic beaches, sublime seawater, untouched ecology, vibrant rural environment and warm, gracious and forthright people make endearing elements for the Albay west coast in becoming a wonderful place to visit, play and relax away from the exasperating urban rat race, she said.
That makes the place a haven for eco-cultural tourism cum community-based tourism that is described as a socially sustainable -- meaning, tourism activities are developed and operated, for the most part, by local community members and a reasonable share of the revenues are enjoyed by the community in one way or another.
Another important feature of community-based tourism is its respect for local culture, heritage and traditions as its system actually reinforces and sometimes rescues these and implies respect and concern for the natural heritage, particularly where the environment is one of the attractions.
Identified for inclusion in the proposed new tourism site are the beaches along barangays Buenavista, Malidong, Basicao Coastal and Marigondon, all in Pioduran town; Maonon, Cabarian and Catbulawan of this city; Badian, Cagmanaba, Maramba and Nagas of Oas; and Apud, Rawis, Talin-talin and Pantao of Libon.
All barangays are located adjoining each other and sitting along the northern coastlines of Ticao and Burias Passes that are known as sanctuary of manta rays and seasonal home to whale sharks, the world's largest marine mammal.
The Manta Ray Bowl, which draws a notable number of international leisure divers, is located off the nearby town of San Jacinto at Ticao Island of Masbate while the whale sharks, locally called butandings, seasonally homed each year at the nearby coastal waters of Donsol, Sorsogon, is another major tourism drawer.
The Albay west coast beaches would add to the attractiveness of the province, apart from what are offered by Mt. Mayon, the world's most perfect-coned volcano; the most photographed Cagsawa Ruins; the massive urban development taking place in Legazpi City and all the other historical and cultural heritage sites of the locality. (PNA) RMA/FGS/ Danny O. Calleja/cbd/