Albay Tourism Sizzles

Albay's tourism now literally sizzles and continues to further heat up. Records of the Department of Tourism (DOT) and Albay Provincial Tourism and Cultural Office (PTCAO) show that from a modest 8,700 tourist arrivals in 2006, the figure pole-vaulted to 383,000 in 2013. Of the number, about 300,000 came in only within three years beginning in 2010.
Tagged now as the hottest destination in the country, Albay has emerged from being a disaster-afflicted to a dynamic province with a 66% growth from 170,421 foreign arrivals in 2012 to 339,445 last year. The 2013 national growth rate was recorded at 15.1%
Following this phenomenal performance, Albay was presented as the Philippine's most favored destination during a product positioning and promotion campaign by a DOT marketing team led by Tourism Secretary Ramon Jimenez at the Hyatt Hotel in Hong Kong on June 23. Earlier, six of Hong Kong's well respected newspapers, led by the South China Morning Post and the Hong Kong Standard, featured Albay's tourism wonders, foremost of them Mayon Volcano.
Governor Joey Salceda said other areas that are just as vulnerable to climate change, can learn a lesson from Albay: that they too, can emerge from being disaster-afflicted to a dynamic LGUs.
Salceda had employed a multi-pronged development approach that combines Disaster Risk Reduction-Climate Change Adaptation (DRR-CCA); Nature, Culture, and Events Management, Product Positioning, Facilities Improvement, and Active Promotions.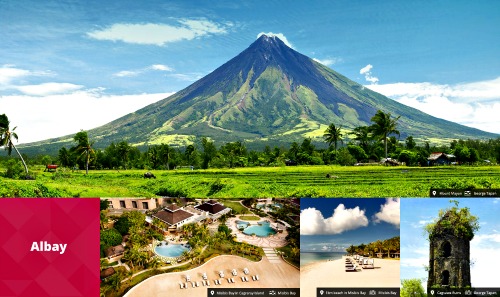 Mayon volcano via Philippine Department of Tourism
He said Albay's DRR-CCA icon has become a platform for the projection of a green image for the province. In fact, Albay's CCA-DRRM Training Institute at the Bicol University here, has become a major tourism magnet for foreign and local tourists, having trained officials from seven countries, the country's regions, 27 provinces, 24 cities, several hundreds of towns and almost a thousand barangays.
Under its program to protect nature, Albay has increased its forest cover by 88% which regenerated aquifers which now feed water to rivers and waterfalls despite the drought; expanded its mangrove forests by 1,700 hectares in 4 years; launched its No-Plastic-Bags campaign; passed an Anti-Smoking ordinance and instituted a Mining ban.
On culture, Albay restored and upscaled its Magayon Festival and now support the up-scaling of festivals in all its towns and cities under the theme "Planet Festival Albay." It created the Albay Historico-Cultural Unit under the PTCAO; instituted its Albay Poet Laureate program, commissioned a research on town histories and published coffee book table books on them; pursued ethno-cultural engagements with local artists, historians, painters, sculptors and cultural workers on the core Albayano culture leading to the institutionalization of "Sayaw nin Tulong Bulod."
On events management, Albay has strived to become a favorite convention venue and won hosting of UNWTO-ASEAN conferences, the 2015 APEC meetings, and the Meeting of the Green Climate Fund Board in 2015. It has likewise worked out partnerships with Legazpi City and other LGUs on conventions and conferences.
On product positioning, Albay has positioned itself as the gateway to Bicol through the Bicol International Airport; developed seaports like the Port of Pioduran where 356,000 passengers coming from Masbate, Cebu and Panay used the RORO in 2013; institutionalized the ALMASOR Tourism Alliance which now cross-markets the natural unity of Albay, Masbate and Sorsogon as demonstrated by the Butanding of Sorsogon, Mayon ATV of Albay and Rodeo of Masbate; promoted the Colors of Albay tourism circuit organised into 4 products – (a) ecotourism (green); (b) colonial heritage (gold); (c) crafts (brown); and (d) seas and islands (blue).
On facilities improvement, Albay has upgraded the Almasor roads, Guicadale roads (roads leading to international airport), Albay West Coast road, Cagraray Circumferential Road and Sula Bridge, Ligao-Pioduran Road and the Libon-Pantao Road.
Through Salceda's efforts, Albay has been presented in various international and national promotions including the Berlin ITB 2012 in Germany, the London WTM 2013, Shanghai TM 2013, DOT Hongkong 2014, and special events of the Philippine Asia Travel Association and the Philippine Travel Operators' Association. (PNA)LAM/JCN/utb