Albay Now Boasts of Smallest and Largest Fish in the World

Both the world's smallest fish -- the "sinarapan," and the biggest—"butanding," are now inhabitants of Albay province, Gov. Joey Salceda has declared
Sinarapan, which is scientifically known as Mistichthys luzonensis and listed in the Guinness Book of Records as the "smallest food fish," has been, since time immemorial, a resident of Danao -- a small, scenic crater lake nestled between Mts. Malinao and Masaraga in the municipality of Polangui.
The lake, which is located 15 kilometers from downtown of Polangui, is 30-minute hike through carabao trails and abaca plantations from the provincial road.
Sinarapan, which is endemic to this lake and swimming in massive schools of 100,000 to 500,000 fish, has an average length of 12.5 millimeters (mm) -- the males somewhat smaller than females.
This tiny transparent goby, with its large black eyes showing the only color, occurs in vast numbers in the lake -- from near the shoreline out to where the water is -- at least 10 to 20 meters deep and breeds throughout the year.
According to the inhabitants of Barangay Danao where the lake sits, the eggs float on the surface of the lake covering large areas, especially during sunny days in March and April.
When hatched, the young swim first at the surface but after a short time, go to the bottom to live.
Sinarapan, which has been of economic importance locally, is commercially harvested in large quantities by the people living near the lake.
For Bicolanos, this fresh water fish species is a staple food of superior delicacy when fried in oil or added to an omelet for breakfast or cooked in coconut milk with vegetables and chili.
These diminutive creatures are said to be an aphrodisiac when eaten raw with salt and a few squeezes of lime juice.
According to Salceda, it is quite amusing as its name seems to come from the root word, "sarap", which means "delicious" in Filipino -- a word that is used to describe both food and sex.
Some Bicolanos, however, say that its name is derived from "sarap," a local term for the finely-meshed net which is used in harvesting it.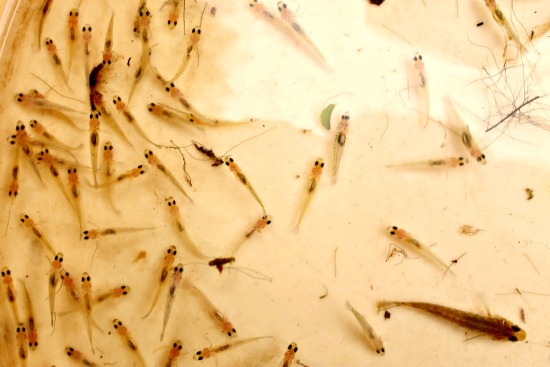 Sinarapan via www.pinoyrepublic.tv
On the other hand, the largest known extant fish species locally called butanding and popular worldwide as whale shark (Rhincodon typus) has also inhabited the waters of Albay, particularly the Poliqui Bay that belongs to the territorial jurisdiction of this city.
Poliqui Bay is host to several river channels draining into Albay Gulf and plankton develop at the mouth of these rivers.
Extending from the shorelines of Barangay Puro to Barangay Buenavista, 10 kilometers away, Poliqui's seabed is rich in sea grass while its shoreline teems with mangroves, making it a habitat for various marine species.
A pod of these "gentle giants of the ocean" that feed on plankton moved to this bay through the Albay Gulf and made their first public appearance early morning last Feb. 2 near the waterfront of Embarcadero de Legazpi adjoining the city harbor.
Since then, at least eight butandings have been continuously hanging around and showing up along the four-kilometer stretch of Legazpi Boulevard, the city's newest leisure spot that serves as a daily rendezvous for tourists and locals for its fresh ocean air and picturesque sitting with the majestic Mt. Mayon on the background.
In two-week's time, 90 sightings of these animals measuring from six to 13 meters in body length have been recorded by the city's Integrated Coastal Resource Management Unit.
The coming of the whale sharks has become an added attraction, drawing to the city hundreds of tourists rushing to go seaborne for underwater interactions.
According to City Mayor Noel Rosal, the present stay at the city waters of whale sharks is not the first time, given that these migratory sea mammals were also around for several weeks four years ago.
"The coming of butanding really proves that our sea water is still clean and rich in plankton," he said.
With the majestic Mt. Mayon providing the background, the presence of butanding here indeed provides a double treat to tourists -- not to mention the other tourist attractions in the province of Albay that would complete their trip, Salceda said.
Hence, the governor said, safeguarding these butandings now becomes a responsibility of every Albayano not only for the local tourism gains it provides but also because of its being rare and endangered.
If only possible, Salceda said, "we want these animals to stay around for a long period of time or perhaps, reside here permanently,"
Rosal, for the part of the city government, has issued guidelines that carry a "Code of Conduct" in dealing with the enormous sea mammals "to ensure safety and enjoyable experience of divers and to prevent the animals from being disturbed."
He warns that although whale sharks are harmless, their sheer size makes it necessary for the divers to exercise caution around them, especially at the tail end.
"Diving with whale sharks in their natural environment is a breathtaking and rewarding experience as this world's biggest fish glides slowly but gracefully past, resplendent in its dappled skin, within touching distance and impassive to the presence of the onlooker," the mayor added. (PNA)(CTB/FGS/Danny O. Calleja/cbd/)