Batangas 'Ala Eh! Festival 2013' Stages 'Parol'-Making Contest

The cold breeze of the "ber" months beckons Christmas season actually starts in this country where Christians celebrate and mark the Yuletide with one of the traditional Filipino symbols – the "parol" or the star-shaped Christmas lantern.
For Batangas province, December is also an auspicious month as they celebrate its famous "Ala Eh! Festival 2013" during the first week with all the pomp and pageantry in a province that lures "All Here, So Near."
The Provincial Tourism Office and "Ala Eh! Festival 2013" organizers announced on Wednesday the parol-making contest to recognize the Filipino innovation and creativity.
The competition for "parol"-making also aims to inspire Batangueño artisans and craftsmen who are into this traditional folk craft and age-old Filipino Christmas decoration.
Organizers stressed that the "parol" always reminds Filipino Christians the Star of Bethlehem that guided the Three Wise Men along their way in search of Baby Jesus.
Following this great expression of the Christmas spirit where different types of "parol" can be seen practically everywhere this early in Filipino homes, offices, schools, shopping malls, churches, streets and public plazas, "Ala Eh! Festival" organizers set the contest rules and guidelines.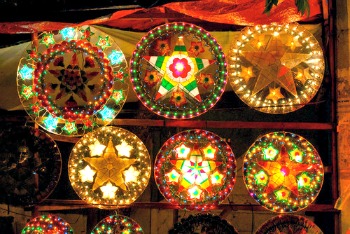 Philippine Parol - Christmas Decoration
The "Parol"-Making Contest is open to all Batangas Local Government Units (LGUs) which is allowed only one entry per city/municipality.
The "parol" entry should be a five point star-shaped Christmas lantern made from indigenous and/or recyclable materials and measures 10 feet in diameter.
Organizers stressed that twinkling bulbs can be added for illumination at night, although these would not be part of the criteria for judging.
Criteria include Originality - 25 percent; Craftsmanship and use of indigenous materials - 50 percent and Over-all impact - 25 percent for a total 100 percent.
The registration for the Parol-Making Contest is deemed complete upon submission of the background description and materials to be used using the filled-out registration forms sent through email (tourism@batangasallheresonear.com and batangastourism@yahoo.com) not later than on November 30.
All entries however must be submitted on or before November 28 at 12 noon to be mounted in time for the opening of the Batangas Ala Eh! Festival 2013 on December 6.
The parol entries will be lighted on December 2 (Monday) at 6:00 p.m. but the judging is set for December 7 at 6 p.m. at the Batangas Provincial Capitol Compound.
Host organizers pointed out that the judges' decision is deemed final and irrevocable and the awarding rites are scheduled on December 8 at the Batangas City Coliseum.
Prizes include Lantern of the Year - P50,000; 2nd Place - P30,000; 3rd Place - P20,000; Consolation Prize - P5,000. (PNA/FPV/Saul E. Pa-a/rsm)