Davao AgriTourism Resort Farm Opens its Gates to the Public

The Malagos AgriTourism Garden Resort located in barangay Malagos, Calinan, Davao, Philippines, will hold the Malagos Farm Fair on August 7 and 8, on its 30-hectare farm.
Not only to promote its continuing advocacy on agritourism but for the people of Davao especially the young ones to appreciate the many activities on the farm.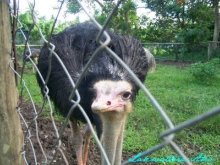 Malagos AgriTourism Garden Resort
Agri-entrepreneur and veterinarian Dr. Roberto "Bo" Puentespina said the event will be the first to be held on the farm, adding that through the farm fair they aim to encourage the people to look at this setting where activities from alternative living and livelihood can be derived.
"Davao is basically agriculture and giving the public new ideas on farming activities would entice them to go back to farming," he said.
Exploring the farm of the Puentespina would include a hayride pulled by a tractor towards its cacao farm, the dairy goat and cow operation, the organic fertilizer and vermi-culture project plus a series of seminars where interested would-be farmers after learning new techniques apply these to their own farms.
"This is our way of sharing the bounty of our fulfillment in this field," he said.
The Malagos AgriTourism Farm Fair was conceptualized as an occasion to sell some of its farm animals that the Puentespina grows as it has the pleasure and fulfillment of raising dairy goats, cows, sheeps, cocks, horese, peacocks, ostriches, fancy chicken, dogs and ornamental birds.
He said by raising dairy animals they were able to produce 100 liters of goat's milk daily and 50 liters of the cows milk also everyday. The milk is being produced by their 300 heads of dairy goats and 27 cows.
The milk, he said, are processed into cheese of which they were able to produce 16 types among them the blue goat cheese and blue cheese with peppercorn. The cheese are sold to high end hotel, bars and restaurants in Manila and can be accessed in Rustans and Rockwell.
Named as Malagos Cheese, it is also being served in the business class accommodation of Philippine Airlines for international flights.
He said Philippine Airlines (PAL) orders 70 kilos every month from them and the type of cheese that they order varies monthly.
He said right now what is being served in the business class is the Feta Cheese as they promote the PAL Experience where the country's flag carrier promotes a fusion of Filipino food.
"We have local buyers here like the Swiss Deli where they do a wine and cheese appreciation with their clients," he said.
With this Malagos AgriTourism Fair, Puentespina said they also would like to introduce their produce to the local market as this is now a new trend being served in restaurants and bars in Manila.
He also said they have developed ostrich beer steak that comes in a pack that is smoked and ready to eat that blends well with beer.
"These are just some of the many discoveries that we had developed and we would like to share this with our fellow entrepreneurs in Davao," he said.
And to help them with their advocacy he said they had invited their industry partners not only to promote and sell their products but to conduct seminars on farming, animal raising, cheese making, and give updates on the industry.
"Hopefully we can make the open house a regular agri-tourism event where neighbor farmers can showcase and sell their produce from vegetables, fruits, animals, delicacies and crafts," he said.
An entrance fee of P250 will also entitle the guest to a lunch buffet of roast beef, barbecue and a drink.
During the Malagos agritourism open house he said there will also be farm games, an adventure race, food tasting and end the day by relaxing with wine and cheese or beer pairing.
Tickets are available at the Waling Flowers at Victoria Plaza and other partner outlets or call 221-1545 or 221-6344 in Davao. (PNA/Digna Banzon)