Adventure Philippines Breaks Out at World's Biggest Travel Fair

Adventure Philippines is all about leaving the beaten path behind and taking on pure, high-octane adventure.
From mountain trekking to spelunking, encountering rare migratory birds or giant whale sharks, the Department of Tourism (DOT) formally lunged into the Adventure Philippines campaign at the recent Internationale Tourismus-Börse (ITB Berlin), the largest travel fair in the world.
"Announced during the first quarter of this year, Adventure Philippines promotes the country as the region's center for ecotourism, nature exploration, scuba diving and water sports, and extreme quests.
The DOT has partnered with R.O.X. (Recreational Outdoor Exchange), the biggest outdoor equipment retailer in Southeast Asia, in developing packages and marketing activities for Adventure Philippines.
Durano shared that for a destination to be considered part of Philippine Adventure, it should touch on at least two of three components: involves a physical activity, allows for cultural exchange and interaction, and engages the natural environment or ecology.
Some of the Adventure Philippines excursions announced at the 42nd ITB include hiking and trekking on the various mountain peaks across the country, scuba diving in wreck sites and coral reefs around the islands, white-water rafting, surfing in Siargao, windsurfing in Boracay, mountain biking through Northern Luzon, whale shark interaction in the waters of Donsol, spelunking down the ancient caves of Sagada and rock climbing on the limestone faces of Palawan.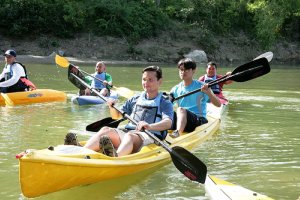 "Our participation in this year's ITB showed a new side of the Philippines. As we strengthened the country's positioning as a relaxing tropical getaway, we also featured destinations for travelers that are out for an adrenaline rush.
At the end of the day, it's all about the Philippines offering more than the usual experiences and giving more reasons for visitors to come back," Durano elaborated.
The 42nd ITB Berlin was held at the sprawling 160,000 square meter fairground of the Center ICC in Berlin, Germany. Reputed to be the leading event for the international travel industry, over 11,000 travel wholesalers, resorts, hotels, airlines, cruises, tourism associations, national tourism offices and other tourism-related enterprises from 180 countries and territories were on exhibit for business-to-business transactions and meetings with potential tourists.
This year's expo drew in over 180,000 guests comprised of business decision makers and individuals planning their next holiday. The 200 square-meter Philippine pavilion featured the breathtaking landscapes, exhilarating extreme sports activities and awe-inspiring dive sites which make up Adventure Philippines around the islands.
Tour operators Annset Holidays, Art of Travel, Baron Travel, Blue Horizon and Intas Destination Management met up with their counterparts for joint marketing promotions, as well as accommodated inquiries from interested thrill-seekers and vacationers.
Likewise, Pinjalo Resort/Calypso Divers featured the country's world-renowned diving attractions to the watersports sector.
Flag carrier Philippine Airlines showcased the various access points to the country, as well as their own package tours.
Badian Island Resort & Spa, Coco Beach Resort, Dos Palmas Resort and Spa, El Nido Resorts, Eskaya Beach Resort & Spa, Hotel Villa Sunset Boracay, Mandala Spa & Villas, Microtel Inns and Suites, Plantation Bay Resort & Spa, Shangri-La Mactan Island Resort & Spa, Mandala Spa & Villas, and The Ananyana presented their amenities and services.
Members of the Bayanihan Philippine National Folk Dance Company gave exhibit visitors a sampling of the country's culture, music and festivities with daily musical and dance performances.