AccorHotels Philippines Shows Commitment to Sustainable Seafood
AccorHotels Celebrates Cuisine and Sustainable Seafood, Collaborating in "Sustainable Seafood Week Philippines"
AccorHotels Philippines, a part of AccorHotels, the world-leading travel &lifestyle group and digital innovator with over 4,000 hotels and residences has recently joined together to show its commitment to the sustainable seafood initiative. The group is comprised of 5 hotels in the Philippines including Raffles Makati and Fairmont Makati, Sofitel Philippine Plaza Manila, Novotel Manila Araneta Center, and Mercure Manila Ortigas.
Sofitel Philippine Plaza Manila hosted the one-day workshop where stakeholdersincluding environmental groups, hotelsand restaurants, government and non-governmental organizationshave come together to discuss the roadmap on how to have sustainable seafood in the Philippines.
The different stakeholders identified the gaps at each stage of the fisheries supply chain includingthe need for rigorous documentation of fish catch, and country-specific standards in the processing of seafood.
This is in addition to key priorities in conserving seafood resources such as proper eco-labelling, appreciation of the seasonality of certain species, enforcement of labor laws concerning fishers' welfare, more affordable methods for monitoring fishing vessels, and complete registration of fishers and boats.
The sustainable seafood used was sponsored by Meliomar, a seafood-processing and export company focusing on the development and trade of high-quality sustainable seafood.
"AccorHotels Philippines is committed to supporting Sustainable Seafood and assuring our diners that an ever-increasing percentage of the seafood served in our hotels is sourced from non-endangered fisheries," says Adam Laker, Area General Manager of AccorHotels Philippines.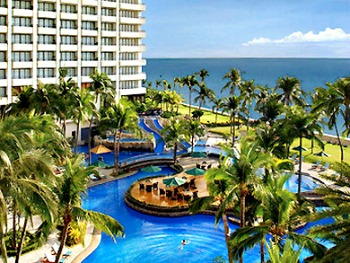 AccorHotels Philippines, Sofitel Philippine Plaza Manila
"AccorHotels' dedication to sustainable development issues back to more than 20 years and was crystallized in 2011, then in 2016 with PLANET 21 programme, which encompasses sustainable commitments that aspire to significantly reduce our environmental footprint by 2020. Among these are to achieve a 30% reduction in food waste,to ensure that 100% of our restaurants follow our Healthy and Sustainable Charter and to ban from ourmenus six highly-threatened species of wild fish."
The event concluded with the group's presentation of the sumptuous sustainable seafood dishes that are served at the different restaurants of the hotelswith the magnifique backdrop of the Manila Bay sunset. The chefs from the various hotels prepared a sensory and culinary feast featuring a vast selection of sustainable seafood reflecting their unique cooking styleswithJapanese, French,German andMediterranean inspirations.
It was truly a seafood paradise withseafood specialties that are featured on "Hooked at Spiral"seafood night every Wednesday. The lineup includeda fresh salad station with different types of seafood, a live cooking station of risotto with a selection of squid ink risotto and prawns risottoand the crowd drawer, the sushi station. Sofitel's Master JapaneseChef HiromiYonekawa and his team were on hand to prepare freshly madeSashimi, Maki,Nigiri Sushi, SmokedMahi Mahi, the unique Spanish-inspired squid Espuma. Restaurant Operations Chef Alain Rion and his team prepared Mackerel Comfit with Star Anise, Blood Orange Braised Fennel and Lobster Squid Ink Quinoa Risotto Lemon Confit Vinaigrette which were all French-inspired.
Raffles and Fairmont Makati served Sautéed Squid Chorizo OilandSweet Garlic CreamCevichewhich had a French and Brazilian flair.Novotel Manila AranetaCenter servedSous Vide Loster Tail in Polenta Cake andOctopus Confitin Potato Birds Nest which had German and Spanish inspirations. Mercure Manila Ortigas served Asian Tuna Taco and Black Tiger Prawn Salad Roll,giving a Mediterranean twist. Guests were treated to new types of chocolate truffles by Spiral's master chocolatier and a plethora of desserts from the Pastry kitchen of Spiral.
ACCORHOTELS
AccorHotels is a world-leading travel &lifestyle group and digital innovator offering unique experiences in more than 4,000 hotels, resorts and residences, as well as in over 2,600 of the finest private homes around the globe. Benefiting from dual expertise as an investor and operator through its HotelServices and HotelInvest divisions, AccorHotels operates in 95 countries. Its portfolio comprises internationally acclaimed luxury brands includingRaffles,Fairmont,Sofitel Legend,SO Sofitel, Sofitel, onefinestay, MGallery by Sofitel, Pullman,andSwissôtel:as well as the popular midscale and boutique brands of Novotel,Mercure, Mama Shelterand Adagio; the in-demand economy brands including ibis,ibis Styles,ibis budgetand the regional brandsGrand Mercure,The SebelandhotelF1.
With an unmatched collection of brands and rich history spanning close to five decades, AccorHotels, along with its global team of more than 240,000 dedicated women and men, has a purposeful and heartfelt mission: to make every guest Feel Welcome. Guests enjoy access to one of the world's most rewarding hotel loyalty programs -Le Club AccorHotels.
AccorHotels is active in its local communities and committed to sustainable development and solidarity throughPLANET 21, a comprehensive program that brings together employees, guests and partners to drive sustainable growth.
Accor SA is publicly listed with shares trading on the Euronext Paris exchange (ISIN code: FR0000120404) and the OTC marketplace (Code: ACRFY) in the United States.
For more information and reservations visitaccorhotels.group or accorhotels.com. Or become a fan and follow us on Twitter and Facebook.