About Jollibee: The Filipino's Pride

Learn about Jollibee, the Philippines' #1 fast food chain
Jollibee is the Philippines' leading burger chain. This well loved restaurant started its business in 1975 as an ice cream parlor which also served the soon to be iconic yumburgers (hamburgers) and chicken joy (fried chicken).
Jollibee Philippines is perhaps one of the country's current pop icons.
About Jollibee
Jollibee Philippines initially had two branches in 1975 and thereafter expanded to seven branches in a span of three years and from then on, the company transformed the fast food industry in the country. From its humble beginnings, the Jollibee Food Corporation moved up the corporate ladder by hitting top sales marks in the industry and eventually landing in the Top 100 Corporations of the Philippines.
The Jollibee phenomenon continued and by the early 1990's, the company was the first food company to be listed on the Philippine Stock Exchange. The corporation with its dedication to the food industry expanded its business which now covers major food chains in the Philippines like: Greenwich Pizza, Red Ribbon Bakeshop and Chowking. Additionally, Jollibee expanded its branches both locally and abroad.
Jollibee Philippines, as the country's largest fast food chain, is motivated by its dedication to the continued success of the Filipinos. This can be seen in the restaurant's family themed services from the greetings to the taste of the food which is uniquely Filipino. The store also finds strength with its committed employees which are all well trained and work in a fun and family like environment, which makes every Jollibee store a fun place to be.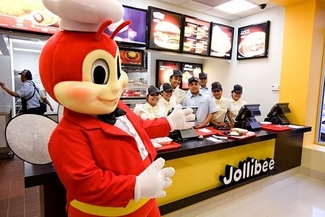 Jollibee has influenced the kids of the 1970's and beyond. Ask any Filipino child about Jollibee and for sure, you will hear wonderful Jollibee moments spent with family and friends. The restaurant is famous for its uniquely Pinoy brand of burgers like the Yumburger which comes with a simple patty or with cheese or in a tomato-lettuce-cheese variety.
Philippine Food - Jollibee Style
Added to these burger selections is its equally famous 1/3-pound patty with fresh tomato, lettuce, cheese and yummy sauce in a sesame seed bun, which is named the Champ Burger for those with a big appetite. Not to be missed out on is its signature crispy Chicken Joy and its delicious gravy. The chicken joy is usually served with rice or along a Jolly spaghetti meal. Recently, the company introduced the equally tasty spicy chicken joy and its chicken barbeque variety.
Another favorite in every Jollibee store are its Jolly Hotdogs and choco sundae. Additionally, the store also serves a variety of budget meals ranging from burgers to sandwiches to breakfast meals and noodle dishes. These budget meals come with a soda and are truly affordable.
As a part of the pop culture of the Philippines, Jollibee also captured TV audiences with its children's program titled "Jollitown." It was launched in 2008 as part of the company's 30th anniversary. It is set to be on its fourth season and airs every Sunday morning to the delight of the kids and adults too. Its mascots: Jollibee, Hetty, Popo, Yum and Twirlie are among the most loved mascots of children and adults and they usually grace every birthday party celebrated in one of its branches.
After learning about Jollibee, with its family themed stores and delicious food, you can see why it has indeed become a part of every Filipinos' life.