Rare Bird Species Abound in Zamboanga City, Amaze Bird Experts

Today, when one mentions Zamboanga, it brings dread and fear especially to those who are not from Mindanao's oldest city.
The city government, Department of Tourism, and other concerned government and non-government institutions are faced with a gargantuan task of building back the city's bleeding image. It's a huge task convincing others that Zamboanga is not that "bad" at all.
Despite all these, there are always windows of opportunity to solve this perception.
Zamboanga City hosted the 9th Philippine Bird Festival recently. Although new to most Zamboangueños, this festival may just be one of the catalysts to turn the tide for Zamboanga City.
DOT 9 Regional Director Mary June Bugante sees this activity as, "a way to help rehabilitate Zamboanga City's tourism" after that fateful MNLF attack.
While some people begrudge what they call the "infestation" of barn and pacific swallows within the city's business district especially in the late afternoons, it has also propelled the city's fame to bird watchers in the country and even abroad. In fact, the Wild Bird Club of the Philippines, a huge and well-connected organization of bird lovers, enthusiasts, and conservationists, chose the barn swallow as this year's official mascot for the Bird Festival.
Ms. Gina Mapua, President of the Wild Bird Club of the Philippines, together with Mr. Michael Lu and Maritess Falcon came here to look into the potential of the city as it is identified as one of the bird watching sights in the country. Coming here may be one of their best decisions as they were blown away by what they discovered.
"There are amazing varieties of birds within Zamboanga City alone. It is the first time in the country that we recorded great egrets breeding here in Zamboanga City. It is very unusual as great egrets are migratory birds. We have photo-documented it and we even saw new hatched egrets in the Zamboanga State College of Marine Science and Technology fish ponds," Ms. Mapua ecstatically shared to the local media.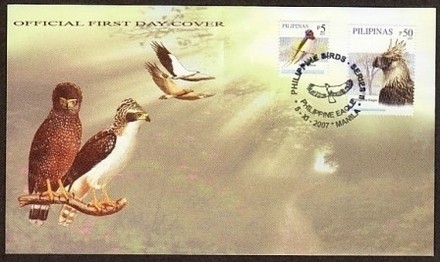 Philippine Birds via philippinestamps.net
Mapua explained that the reason why these birds chose to stay and breed in the city is the favourable conditions in the fishponds.
Ms. Maritess Falcon, the lead photo documenter of the activity was also in awe of what she saw in the Pasonanca National Park as she took a picture of a lifetime of a bird species that is very rarely seen or photographed.
"It was so amazing to have photographed a rufus hornbill! It is my "lifer". I never thought I could take shot of this amazing bird. I am just so thrilled!" Ms. Falcon, who is also the National President of the Nikon Club, said.
Aside from these majestic birds, Ms. Gina Fernandez of the Department of Environment and Natural Resources (DENR)-9 bared that the great Philippine eagle also thrives in Pasonanca Natural Park.
"We confirm that there Philippine eagles in our watershed area. We found its offspring in 2010 and was brought to Davao City for immediate attention as it was injured. Unfortunately, the baby eagle died. However, we are sure that the parents live within the watershed as we found four feathers that were of the Philippine Eagle", Ms. Fernandez said.
Zamboanga City and the region, in general, also boast of a bird species endemic only in the area, the Zamboanga Bulbul (locally known as culcul), and the Philippine wild duck that can only be found in Zamboanga City, especially in Barangay Vitali.
The 9th Philippine Bird Festival will be a big help to promote the city in and outside the country. Ms. Mapua said the Borneo Bird Club, Asian Raptor Research, Wild Bird Society of Taipei, the Bird Conservation Society of Thailand, Malaysian Nature Society, and Tourism Malaysia all confirmed their participation.
"We are expecting other foreign participants to confirm their attendance," she added.
Regional Director Mary June Bugante is also inviting everybody to come and join the 9th Philippine Bird Festival for the public to better appreciate what Zamboanga City has. Best of all, said activity is free. (FPG/Michael Vincent D. Cajulao/PIA9-ZBST)