~~~~~~~~~~~~~~~~~~~~~~~~~~~~~~~~~~
Sunny Cebu Newsletter
... Keeping You Up-to-Date
~~~~~~~~~~~~~~~~~~~~~~~~~~~~~~~~~~

No need for you to search around for travel information related to the Philippines - we bring it all to you. Sunny Cebu Newsletter boils it all down and reports only the important material that you need to know.

~~~~~~~~~~~~~~~

Latest Philippines Travel Headlines
~~~~~~~~~~~~~~~

• Northern Mindanao Has a New Tourism Bi-way ; Maramag
Famous for its cool crystal-blue spring waters that flow copiously, Maramag town in the province of Bukidnon is the new tourism highway in Northern Mindanao...

• Philippine Airlines Promo - Latest PAL Promo Offers
Latest Philippine Airlines promo fares to choose from - Philippine Airlines is offering several special promotions...

• Palaui Island is Among top 3 Philippine Beaches According to CNN
Officials of Sta. Ana, Cagayan Province are now strengthening security measures of Palaui Island after being declared in the top 3 among Best Beaches and Islands in the Philippines by CNN Go...

• Cebu Pacific Promo Offers P1 Fare to Xiamen, China
The Philippines' largest budget carrier, Cebu Pacific (PSE:CEB) announced a seat sale to all its destinations in China, starting at P1 for its Xiamen flights. The promotion slashes fares to China, Hong Kong, Japan, and Korea...

• Outstanding Career of Famous Filipino Artist Showcased at Kapampangan Museum
"I am not an intellectual. I do not paint from the mind. I am a peasant, I paint from the heart," said Vicente Manansala, great Filipino visual artist...

• Powered by Grass, Not by Gas' - Modern Tartanilla in Dumaguete
What vehicle is powered by grass and not by gas? Answer: tartanilla, the horse-drawn carriage that may soon trot in big numbers once again on the streets of Dumaguete...

~~~~~~~~~~~~~~~



"Philippines Insider"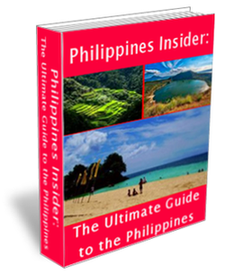 • "Philippines Insider" is the #1 Philippines Travel Guide

~~~~~~~~~~~~~~~

• 1st Korean-Ilonggo Friendship Festival Showcases Fusion of Ilonggo and Korean Culture
A presentation on how the way of life of Ilonggos has been immersed with the Korean culture will be featured in the week-long celebration of the 1st Korean-Ilonggo Friendship Festival this Sept 17-22 in Iloilo...

• Samtoy Bookshop Promotes Ilocano Talent, Culture in Ilocos Norte
It is not your regular bookstore. Samtoy Books, located at the artsy La Tabacalera in Laoag City, is where book lovers and artists meet...

• Dreaming of a Florentine Style Philippine Wedding? Marry at the Assumption Church
In case you wonder why the interior of the Church of our Lady of the Assumption in Dauis figures prominently among the top choices of the most romantic venues of the exchange of "I dos" in Bohol, the reason could be traced to the human subconscious...

• La Union Surfing Break Set to be Bigger and Better According to DOT
An official of the Department of Tourism in Region 1 (DOT 1) has expressed hope for a better La Union Surfing Break, during the launch of the annual surfing event...

• Baguio City Sees Great Tourism Prospects Despite Rainy Season
Baguio City's tourism industry still has bright prospects this season of typhoons and monsoon rains, as the cold weather and occasional rains are perfect for romantic getaways, weddings and honeymoons, as well as for meetings, conventions and conferences...
~~~~~~~~~~~~~~~

Latest Quote
~~~~~~~~~~~~~~~

"The only true wisdom is in knowing you know nothing."
Socrates

Take care...

Patrick
Cebu-Philippines.Net