~~~~~~~~~~~~~~~~~~~~~~~~~~~~~~~~~~
Sunny Cebu Newsletter
... Keeping You Up-to-Date
~~~~~~~~~~~~~~~~~~~~~~~~~~~~~~~~~~

No need for you to search around for travel information related to the Philippines - we bring it all to you. Sunny Cebu Newsletter boils it all down and reports only the important material that you need to know.

~~~~~~~~~~~~~~~

Latest Philippines Travel Headlines
~~~~~~~~~~~~~~~



* RiverWatch Floating Restaurant gets Tripadvisor 2013 Thumbs-up for High Ratings
This year, tripadvisor confers to Loboc RiverWatch Floating Restaurant a Certificate of Excellence in 2013, for the company's being among the top performing 10% of all businesses worldwide on tripadvisor...




* 'Festival of Lights' to Offer Something new for Taclobanons and Visitors Alike
This year's Sangyaw Festival also known as 'Festival of Lights' will "be a sight to see" according to Tacloban City administrator...




* Roaming Around Gingoog City and its Superb Tourism Spots
Gingoog City is a famous second-class city in the province of Misamis Oriental that is endowed with great bounties of nature and numerous tourist spots...




* Organizers Now Preparing for Pintados Kasadyaan Festival of Festivals in June
Preparations are now underway for the Pintados Kasadyaan Festival of Festivals this coming June in time for the celebration of the feast of Señor Sto. Niño in Tacloban City, Leyte...




* Cebu Pacific Promo Re-Launches New, Enhanced CEB Club
With the new CEB Club, members will have access to enhanced personal data management systems for easy and convenient flight bookings...




* Zambales has Bounced Back From Pinatubo's Wrath; a Rising Tourist Destination
Towards the northeast of Olongapo City, Philippines is an imposing sight -– the hitherto dormant Mt. Pinatubo which cut a swathe of destruction when it erupted in 1991 following a 600-year slumber...



~~~~~~~~~~~~~~~



"Philippines Insider"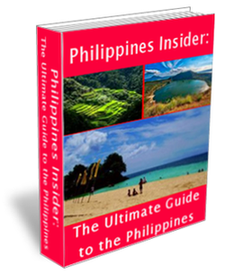 • "Philippines Insider" - #1 Philippines Travel Guide

NEW PRICE

~~~~~~~~~~~~~~~



* Cebu Pacific Boosts Mindanao Connectivity With More Flights
Starting June 15, 2013, CEB will add two weekly flights using an Airbus A320 aircraft between Cebu and Zamboanga, making it a six times weekly service...




* Cebu to mark Coral Triangle Day with Beach Clean ups, Mangrove Planting
Beach clean-ups and mangrove planting, among other major activities, will be held in Cebu to mark the international celebration of Coral Triangle (CT) Day on June 9...




* Asia's Longest Zip-Line Opens in Makilala, North Cotabato
Asia's longest zip-line located in Makilala town in North Cotabato is now open for tourists and adventure enthusiasts...




* Nueva Vizcaya Eyes 2013 Mountaineering Summit
Hundreds of mountaineering enthusiasts and environmentalists from all over the country are expected to stay in this province...




* Cagayan's Callao Cave: Home to an Ancient Filipino
Cagayan also takes pride in having historical as well as cultural and religious landmarks...




* DOT Philippines Prepares For International Travel & Tourism Events
The Department of Tourism (DOT) is organizing the Philippine participation in key international events in principal source markets.




* PAL, The Star Tie-up for Digital Advertising
Flag carrier Philippine Airlines ties up with the country's leading newspaper – the Philippine Star – in the latest technological breakthrough in digital media...




* Donsol Whale Sharks, Ticao Manta Rays Double Treat for Summer in Bicol
Underwater interaction with whale sharks homing at the coastal waters here now has an added treat for thousands of visiting scuba divers...



~~~~~~~~~~~~~~~

Latest Quote
~~~~~~~~~~~~~~~

"An investment in knowledge always pays the best interest."
Benjamin Franklin

Take care...

Patrick
Cebu-Philippines.Net