~~~~~~~~~~~~~~~~~~~~~~~~~~~~~~~~~~
Sunny Cebu Newsletter
... Keeping You Up-to-Date
~~~~~~~~~~~~~~~~~~~~~~~~~~~~~~~~~~

No need for you to search around for travel information related to the Philippines - we bring it all to you. Sunny Cebu Newsletter boils it all down and reports only the important material that you need to know.

~~~~~~~~~~~~~~~

Latest Philippines Travel Headlines
~~~~~~~~~~~~~~~



* Stem Cell Treatment Centers; Now in Iloilo City, Philippines
Stem cell therapy is now available at St. Paul's Hospital, a premier health care provider in Iloilo City...




* South Cotabato's 14th T'nalak Festival Highlighted by National Dog Tourney
South Cotabato's 14th T'nalak Festival next month will feature for the first time a national canine athletics competition...




* Hugging 'Big Bell' and Feeling the Fun in Capiz
When the Spaniards came to the Philippines centuries ago, they established their second settlement in Panay town in Capiz next to Cebu...




* Resom Resort Phils. Commits to P20-billion Tourism Project At Subic
Resom is committed to invest P1.2 billion for the construction in this area of a luxury hotel with around 300 rooms...




* Cebu Pacific Takes Delivery of its First A330-300
Cebu Pacific has taken delivery of its first A330-300 during a special ceremony...




* Western Visayas Tourism Focuses on Bridges and Japanese Tourists
"Tour of Seven Bridges of Blessings" to create awareness on the historical significance of these structures among locals and tourists...



~~~~~~~~~~~~~~~



"Philippines Insider"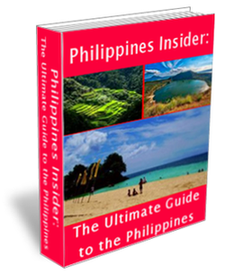 • "Philippines Insider" - #1 Philippines Travel Guide

NEW PRICE

~~~~~~~~~~~~~~~



* Samar Island Opens Doors to Fun and Adventure Tourism
Samar, the country's third largest island, offers a perfect destination for people who seek fun and adventure...




* 'Destination Marketing Project' to Boost Iloilo City's 'MICE'
"Destination Marketing Project" will strengthen the capacity and standards of Iloilo City for meetings, events, conventions or conferences and exhibitions...




* Bohol Welcomes Tourists at New Bohol Tourism Complex
The new Bohol Tourism Complex is a visible sign of Bohol's eco-cultural tourism centerpiece...




* 'Pilgrim City' Escapades are Diversely Religious, Historic and Exciting in Naga City
Next to Manila and Cebu, Naga City is the third oldest Spanish-colonial city, known for its deeply religious, historic structures and monuments...




* Palaui Island, Philippines in CNN's Top 10 Best Beaches in the World
Palaui Island, Philippines ranked as the 10th in Cable News Network's (CNN) choice of 100 best beaches in the world...



~~~~~~~~~~~~~~~

Latest Quote
~~~~~~~~~~~~~~~

"Anyone who stops learning is old, whether twenty or eighty. Anyone who keeps learning stays young. The greatest thing you can do is keep your mind young."
Mark Twain

Take care...

Patrick
Cebu-Philippines.Net