~~~~~~~~~~~~~~~~~~~~~~~~~~~~~~~~~~
Sunny Cebu Newsletter
... Keeping You Up-to-Date
~~~~~~~~~~~~~~~~~~~~~~~~~~~~~~~~~~

No need for you to search around for travel information related to the Philippines - we bring it all to you. Sunny Cebu Newsletter boils it all down and reports only the important material that you need to know.

~~~~~~~~~~~~~~~

Latest Philippines Travel Headlines
~~~~~~~~~~~~~~~



• Phil. Economy 2012 Outperforms Other ASEAN Economies Amid Global Uncertainty
The Philippines has remained resilient to the effects of uncertainties in the global economy...




• Top Environmentally Sustainable Tourism in Philippines; Bohol Dolphins and Tarsier
Cable News Network (CNN) International Travel online has picked "Dolphin Watching" and the Tarsier sanctuary in Corella town as among the seven wild adventure destinations in the country...




• Best Restaurants in Manila Joined by Re-Opened Spiral
Spiral, Sofitel Manila's flagship restaurant, introduces unparalleled gourmet offerings from various internationally acclaimed master chefs!




• NCCA to Hold Writers Festival and Sayaw Pinoy in Dumaguete City
The National Commission for Culture and the Arts (NCCA) will hold its writers festival and sayaw Pinoy early next year in Dumaguete City...




• Eco-Friendly Pedicabs are the Pride and Joy of Albay's 'City of Love'
On all thoroughfares of Tabaco City, Albay, a place called the "City of Love", three-wheeled pedal-driven vehicles locally called "padyak" (pedicab) are all around, serving as the city's primary means of public transportation...



~~~~~~~~~~~~~~~



"Philippines Insider"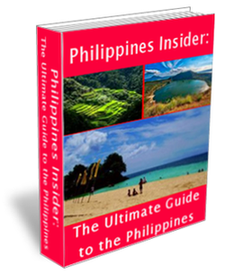 • "Philippines Insider" is the #1 Philippines Travel Guide

~~~~~~~~~~~~~~~



• Community-Based Sustainable Tourism is the Focus of Puerto Princesa
Community-Based Sustainable Tourism (CBST) projects designed to enrich the lives of residents in distant villages in Puerto Princesa...




• MassKara Festival Makes it to National Geographic List
The international magazine National Geographic has chosen Bacolod's MassKara Festival as one of the 12 must-do things in the world for October...




• Ecotourism Vacations in the Philippines: Mantianak Botanical Garden and Zoological Park
Who would have thought that there is a place in Misamis Oriental where you can enjoy ecotourism vacations, sightseeing of the natural wonders as well as witness different kinds of animal species...




• Cebu Pacific Check-in More Convenient With Self Check-in, Web Check-in During Travel Peak
Check in online or through self-service kiosks at the airport...




• Central Luzon: The Undisputed Belen and Lantern Capital of the Philippines
Every Christmas season, thousands of foreign and local tourists converge on the region to see and be amazed with the colorful displays of the Belenismo and Giant Lantern Festival in Tarlac and Pampanga, respectively...




• New Bacarra Museum: An Oasis of Religious and Cultural Artifacts
The Museo de Bacarra formally opened in early November 2012 after more than a year of collecting artifacts contributed mostly by residents...




• Cebu Bangkok Flights and Cebu Kuala Lumpur Flights Launched by Cebu Pacific
Expands regional network from Cebu with Cebu Bangkok Flights and Cebu Kuala Lumpur Flights...



~~~~~~~~~~~~~~~

Latest Quote
~~~~~~~~~~~~~~~

"Adopt the pace of nature: her secret is patience."
Ralph Waldo Emerson

Take care...

Patrick
Cebu-Philippines.Net