~~~~~~~~~~~~~~~~~~~~~~~~~~~~~~~~~~
Sunny Cebu Newsletter
... Keeping You Up-to-Date
~~~~~~~~~~~~~~~~~~~~~~~~~~~~~~~~~~

No need for you to search around for travel information related to the Philippines - we bring it all to you. Sunny Cebu Newsletter boils it all down and reports only the important material that you need to know.

~~~~~~~~~~~~~~~

Latest Philippines Travel Headlines
~~~~~~~~~~~~~~~

• Korea to Philippines Flights 10th Anniversary Celebrated by Cebu Pacific
Cebu Pacific's Korea to Philippines flights post 15% passenger growth in 1st half of 2012...

• Subic Bay Tourism - It's More Fun-tastic in Subic Bay!
Explore, Experience, and Enjoy Subic Bay Tourism - Enjoy sunny picnics and dips in the beach, pamper the mind, body and spirit while enjoying a taste of tropical living, and get a front row seat to nature's sunset show...

• Angeles Philippines Feast to Focus on Culture, Tradition, Religion
A wide array of Angeles City's culture, tradition and religion will be featured during this year's "Fiestang Kuliat (Feast of the City)" during the whole month of October...

• Cebu Pacific Airlines Domestic Flights Increased; Boosts Philippine Route Network
Cebu Pacific (PSE:CEB) launched four domestic routes October 4 to 5, 2012, increasing connectivity within the Philippines...

~~~~~~~~~~~~~~~



"Philippines Insider"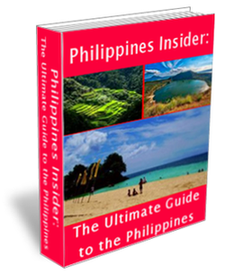 • "Philippines Insider" is the #1 Philippines Travel Guide

~~~~~~~~~~~~~~~

• Bokod Launches First Ambuklao Adventure in October
Discover what a barangay in Bokod, Benguet has to offer and experience nature at its best in the first "Ambuklao Adventure"...

• Kapampangan Center Traces Roots, Preserves Heritage of Pampanga People
Luckily, a university-based institution was established, dedicated to trace the roots and preserve the heritage of these people...

• Adventure Traveling? Sunken Cemetery, Camiguin's Rarest, Must-See Site
The tourist attraction site famously known as the "Sunken Cemetery," marked by a huge cross rising from the waves...

• Baguio Tourism Revved up by Special Tourist Police on Bicycles
Tourists visiting Burnham Park and adjacent Rose Garden, now feel safer with the special tourism police unit patrols using mountain bikes...

• Manila Five Star Hotels Just Got Better - Imperial Residence at Sofitel
Enjoy an opulent accommodation at the most luxurious collection of suites in Manila, The Imperial Residence at Sofitel...

~~~~~~~~~~~~~~~

Latest Quote
~~~~~~~~~~~~~~~

"A man who dares to waste one hour of time has not discovered the value of life."
Charles Darwin

Take care...

Patrick
Cebu-Philippines.Net