THERE WAS A PROBLEM WITH THE PREVIOUS NEWSLETTER - PLEASE ACCEPT OUR APOLOGIES.
~~~~~~~~~~~~~~~~~~~~~~~~~~~~~~~~~~

Sunny Cebu Newsletter
... Keeping You Up-to-Date
~~~~~~~~~~~~~~~~~~~~~~~~~~~~~~~~~~

No need for you to search around for travel information related to the Philippines - we bring it all to you. Sunny Cebu Newsletter boils it all down and reports only the important material that you need to know.


Latest Philippines Travel Headlines



* The Lost Giant Clams at Lamanoc Point Return
Generations have scoured the seas around here, looking for the clues which connect the presence of huge clams in the ritual sites of Lamanoc...




* Cebu Pacific Promo Offers Domestic, International Seats as low as P199 for Immediate Travel
The Philippines' leading low-cost carrier, Cebu Pacific Air (PSE:CEB) holds a select domestic and international seat sale as low as P199 until seats last...




* At 75, Nana Miniang Still Makes the Best Native Chocolate in Ilocos Sur
Herminia "Nana Miniang" Makil started making native chocolates out of cocoa in the 1970s...




* Skyjet Resumes Flights to Catanduanes in Time for Catandungan Festival
Skyjet Airlines has resumed its flights on the Manila-Catanduanes route on Oct. 15...




* Tourism Boom Expected After Lake Sebu Named a Philippine Gem
Following official declaration of Lake Sebu as one of the 10 Philippine Gems, officials expect an influx of tourists...


~~~~~~~~~~~~~~~~~~~~~~~~~~~~~~~~~~


"Philippines Insider"
• "Philippines Insider" - #1 Philippines Travel Guide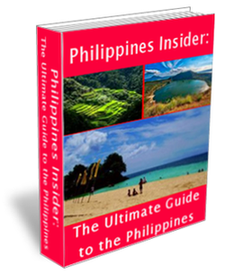 • LEARN TAGALOG FREE !

~~~~~~~~~~~~~~~~~~~~~~~~~~~~~~~~~~



* Water Sport Places La Union on Global Surfing Map; Soul Surf 2013
San Juan has been making waves in the international surfing scene following its annual surfing break which has attracted local and foreign board riders...




* Challenge Triathlon Prepares for its PHL Debut in Bataan
Challenge Philippines will hold its maiden triathlon activity in Bataan in February next year...




* An Ibanag Offering to the World; Miss Supranational
She talks like a singing bird. She gathers asimmawa (Ilocano, abal-abal; Pilipino, salagubang) and eats them, too. She is Miss Supranational 2013. An Ibanag...




* Guimaras Upbeat on Eco-Agri Tourism Potential
Guimara sis blessed with diverse tourism spots, nature-based attractions and historical, religious heritage destinations...




* Tourism in Bohol Seen to Recover Quickly After Strong Quake
For one, the major resorts in the fabled island of Panglao were virtually unscathed...



~~~~~~~~~~~~~~~

Latest Quote
~~~~~~~~~~~~~~~

"It is not in the stars to hold our destiny but in ourselves."
- William Shakespeare


Take care...

Patrick
Cebu-Philippines.Net