~~~~~~~~~~~~~~~~~~~~~~~~~~~~~~~~~~
Sunny Cebu Newsletter
... Keeping You Up-to-Date
~~~~~~~~~~~~~~~~~~~~~~~~~~~~~~~~~~

No need for you to search around for travel information related to the Philippines - we bring it all to you. Sunny Cebu Newsletter boils it all down and reports only the important material that you need to know.

~~~~~~~~~~~~~~~

Latest Philippines Travel Headlines
~~~~~~~~~~~~~~~

• Davao del Norte Comes up With New Tourist Greeting
Everyone in Davao del Norte is encouraged to greet each other with "DavNor Morning" as part of a tourism campaign...

• Paradise to Him who Made This Philippine Wine Great…!
Crispulo Baylon was in his mid-90s when his grandson Hercules saw him raising his eyes with each rising sun with a coconut shell of "basi," a fermented alcoholic beverage...

• Tagum's Liboganon River: More Than a River-Cruising Destination
In the heart of Davao del Norte lies a river-cruising destination which aside from being a one-of-a-kind tourist adventure is also crucial in showcasing efforts in mangrove rehabilitation and fish production restoration...

• A Glimpse of Ambulon Beach, Biodiversity Park
Dateline: Vincenzo Sagun, Zamboanga del Sur - this little town is so blessed by nature, with the vastness of the sea surrounding it, marine resources also abound contributing much to the economy of the place...

• Iligan to Celebrate Diyandi Festival and Tourism Month in September
Once again Iliganons will celebrate the city fiesta on September 29, the feast of "Señor San Miguel," the armor-clad patron saint of Iligan, revered as its defender and protector against all threats...

~~~~~~~~~~~~~~~



"Philippines Insider"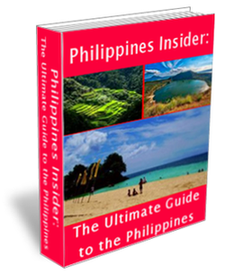 • "Philippines Insider" is the #1 Philippines Travel Guide

~~~~~~~~~~~~~~~

• Pay for Your Philippine Airline Tickets at 7-Eleven Stores
Philippine Airlines (PAL) passengers will now experience the convenience of paying for their domestic tickets 24/7 in over 766 7-Eleven retail outlets nationwide...

• Buglasan Festival in Negros Oriental Presents 87 Events
This year's Negros Oriental Buglasan Festival of Festivals in Dumaguete City will have three venues for the 87 events calendared during a two-week celebration in October...

• Bohol Tourism Ideal as Niche Destination Says Renowned Author
For Bohol tourism to be truly sustainable, the government has to make a choice about Bohol tourism and the environment...

• Philippines Investment Opportunities; BOI Discloses Preferred Investment Areas
The Philippine Board of Investments (BOI) disclosed the priority areas of investments, opportunities include the tourism sector...

• Cebu Pacific Promo Offers 50% off Systemwide Seat Sale for November-January Travel
Cebu Pacific promo puts 500,000 seats on sale and slashes 50% off fares to all 32 domestic and 19 international destinations...
~~~~~~~~~~~~~~~

Latest Quote
~~~~~~~~~~~~~~~

"Do not dwell in the past, do not dream of the future, concentrate the mind on the present moment."
Buddha

Take care...

Patrick
Cebu-Philippines.Net